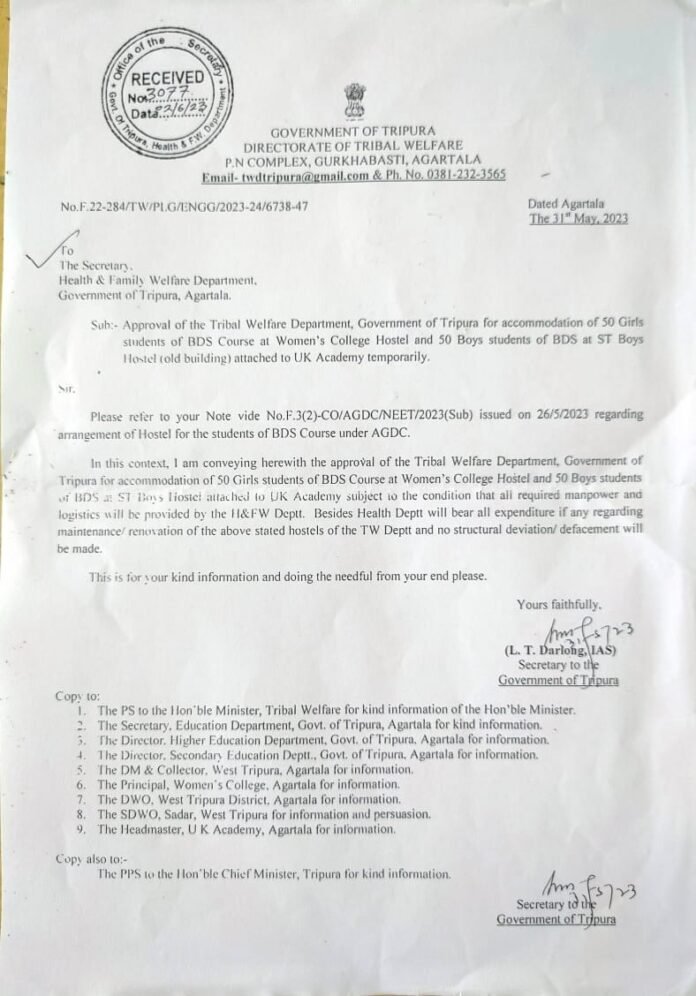 Citizens of Tripura are raising pointed questions and expressing their strong concerns regarding recent approvals by the Tribal Welfare Department (TWD). The justifiability of these decisions is being brought into question, particularly in relation to the welfare of poor students from remote areas and the allocation of tribal hostels to different groups.
One controversial case revolves around Umakanta Hostel, an old building that had previously been handed over to a sports school in 2015. After relentless protest from the concerned citizens, it was retained. However, just a few months ago, there were reports that the building would be given to the National Law University (NLU). Once again, citizens voiced their opposition and managed to nullify the proposal. Surprisingly, within a short period, the same building has now been approved for BDS students. This decision has led to suspicions of favoritism and a hidden conspiracy, as there are other government buildings available for temporary use. The question arises: why is Umakanta Academy ST Hostel being repeatedly targeted?
The second case that has sparked outrage pertains to the shortage of hostel seats for students in the women's college. Last year, over 50 students applied for hostel accommodation, but only 8 or 9 were allotted due to limited space. The hope for these poor and needy students was that the inauguration of a new building would alleviate the issue. However, to their disappointment, the Tribal Welfare Department decided to allocate the new building to other students, disregarding the needs of their own students.
The repercussions of these decisions are far-reaching. In Umakanta Academy Hostel alone, 55 students were admitted to class 11 last year. If the old buildings are occupied by BDS students, only 18 seats will remain in the new building. This leaves the incoming batch of students, expected to be around 55 or more, in a precarious situation. The question arises: where will these students be accommodated, or will they be deprived of a hostel facility altogether?
These contentious decisions by the Tribal Welfare Department have ignited a sense of injustice among the citizens of Tripura. The welfare of poor students, fairness in hostel allocations, and transparency in decision-making are crucial concerns that demand immediate attention from the authorities. The citizens anxiously await satisfactory explanations and remedial actions from the concerned departments.