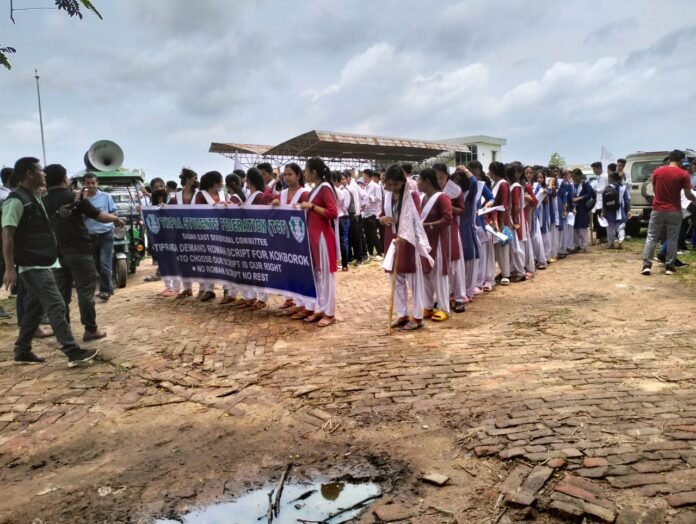 In a bold move, the Twipra Students' Federation Sadar East made their voices heard as they submitted a memorandum to the Jirania Sub Divisional Magistrate, demanding the use of the Roman Script for Kokborok. The demand, which has gained momentum among the Tiprasa community, seeks to embrace a new script that represents their language.
To demonstrate their unity and determination, the TSF organized a spirited rally at Khumulwng. The rally saw enthusiastic participation from students representing various degree colleges and schools, accompanied by supportive parents from the Sadar areas. Together, they sent a resounding message that the Tiprasas are united in their call for the Roman Script for Kokborok.
"It is crystal clear that the Tiprasas are earnestly demanding the implementation of the Roman Script for Kokborok. It is now the responsibility of the ruling government to genuinely consider the aspirations of the people," stated a member of the TSF, highlighting the urgency and significance of their appeal.
Undeterred by the challenges, the student organization has set its sights on further amplifying their demands. Plans are underway to organize a massive rally in Aguli (Agartala), where they intend to present a memorandum directly to Tripura's Governor, Satyadeo Narain Arya. This strategic move aims to garner even greater attention and support for their cause.
The call for adopting the Roman Script for Kokborok has emerged as a crucial issue for the Tiprasa community. Advocates argue that this change would enhance the preservation and promotion of their unique language, ensuring its continued relevance in a rapidly evolving world.
As the TSF's campaign gains momentum and public support, the government now faces a critical decision. The voices of the Tiprasas have resonated strongly, and their demand for the Roman Script for Kokborok cannot be ignored. It remains to be seen how the ruling government will respond to this fervent plea, which carries the aspirations and hopes of an entire community.