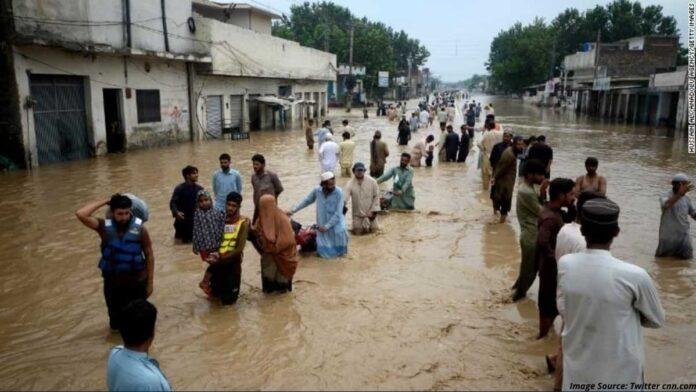 The situation in Pakistan is very bad due to the devastating floods. Floods in Pakistan have destroyed thousands of acres of crops across the country. As a result, the prices of vegetables and fruits are skyrocketing. This is the reason why the demand for opening trade routes with India is gaining momentum in Pakistan. Since Shahbaz Sharif's government has not yet decided on importing vegetables and fruits from India, Pakistani trade organizations are talking about importing essential vegetables like onions and tomatoes from India.
The idea of ​​importing food items from India was first mooted by Finance Minister Mifta Ismail in view of rising inflation. However, Ismail said on Wednesday that Pakistan's government would consult other coalition partners and key stakeholders on the import of food items from India. Faisalabad Chamber of Commerce and Industry President Atif Munir on Thursday urged the government to take swift action to maintain the supply chain of vegetables.
It is worth mentioning that Pakistan Prime Minister Shahbaz Sharif on Wednesday expressed his gratitude to his Indian counterpart Narendra Modi for expressing concern and expressing condolences over the floods in Pakistan. The floods have caused widespread destruction across Pakistan. Thousands of people have been killed. Sharif tweeted, 'I thank Indian PM Narendra Modi for condoling the human and material loss caused by the floods. The people of Pakistan will overcome the adverse effects of this natural calamity by the grace of Allah.
Prime Minister Modi had tweeted on Monday- 'Sad to see the devastation caused by the floods in Pakistan. We extend our heartfelt condolences to the families of the victims, injured and all those affected by this natural calamity and look forward to a speedy restoration of normalcy.
It is worth mentioning that a 100 km wide lake has been formed due to the flood in the Indus river resulting from the severe floods in Pakistan. The magnitude of the flood can be seen in the satellite images released by NASA. Floods have affected 30 million people in 116 districts of Pakistan. Thousands of people have died due to floods so far. According to a report released by the United Nations Children's Fund (UNICEF), more than 3 million children are at risk due to the devastating floods.