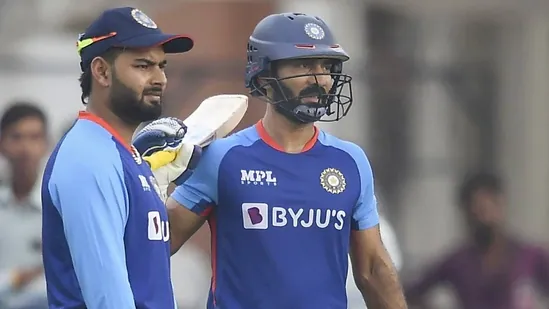 Including both Dinesh Karthik and Rishabh Pant in playing eleven for Asia Cup can result in risk because in this situation Hardik Pandya will play as a fifth bowler, in recent days Pandya's performance in bowling has influenced but due to some past back injuries India's wants to send him as the sixth bowler.
Indian team selectors have recently selected both Rishabh and Karthik for Asia cup 2022, but the question that who'll make a place in playing eleven is still there. Pant has appeared in good touch in recent times and apart from the middle order, he has also batted in the top order. His specialty is he gives an option of left hand too when it comes to batting. In such a condition it'll be very interesting to see whether he gets a chance to be in playing eleven or not.
On the other hand, besides IPL Karthik has played a very good role as a finisher for team India that's the reason for his selection for the Asia cup. Dinesh Karthik scored his first half-century in T20 Internationals after returning to the Indian team and can play 360-degree cricket. His experience will definitely be helpful for the Indian cricket team in upcoming big tournaments so there is more chance of him getting selected.

When pant was questioned about his and Karthik's competition he answered in a simple way. He said that a player first is to give his 100% to the team and the selection depends upon the coach and captain.
While an interview for a Hindi news channel pant said that ' we don't think about those things, personally we only want to give our 100% to the team. The rest depends on the coach and the captain and how the team can benefit from it. Both Pant and Karthik will play against Zimbabwe in the upcoming three-match ODI series which is starting on the 18th of August.