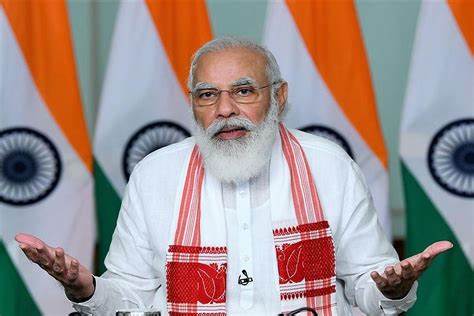 Prime Minister Narendra Modi will visit the state on December 18 to address a public meeting here ahead of the Tripura assembly elections due early next year. A minister of the state gave this information on Wednesday.
On a day-long visit to the northeastern state, Prime Minister Modi will hold a meeting here with Chief Minister Manik Saha and cabinet ministers of the state, besides MLAs of the Bharatiya Janata Party (BJP).
Tripura Information and Cultural Affairs Minister Sushant Chowdhary told reporters here, "Prime Minister Narendra Modi will visit the state on December 18 to address a rally at Vivekananda Maidan here. He may also interact with beneficiaries of various programs like Pradhan Mantri Awas Yojana (PMAY), Garib Kalyan Anna Yojana, PM-Kisan and Jal Jeevan Mission during the programme.
The minister said that over 3 lakh housing units were sanctioned under PMAY in the northeastern state, while 4.10 lakh out of 7.42 lakh households were covered under piped water supply facility and 2.40 lakh farmers were given Rs 2,000 in three installments. Getting financial assistance of Rs.
He said the Prime Minister accompanied by Chief Minister Manik Saha would arrive at the Maharaja Bir Bikram Kishore Manikya Airport here from Shillong in Meghalaya on Sunday afternoon.
Modi will be in Meghalaya on Sunday to attend the golden jubilee celebrations of the North Eastern Council.
The Chief Minister and senior officials of the state government visited the airport here on Wednesday to oversee the security arrangements ahead of the Prime Minister's visit.