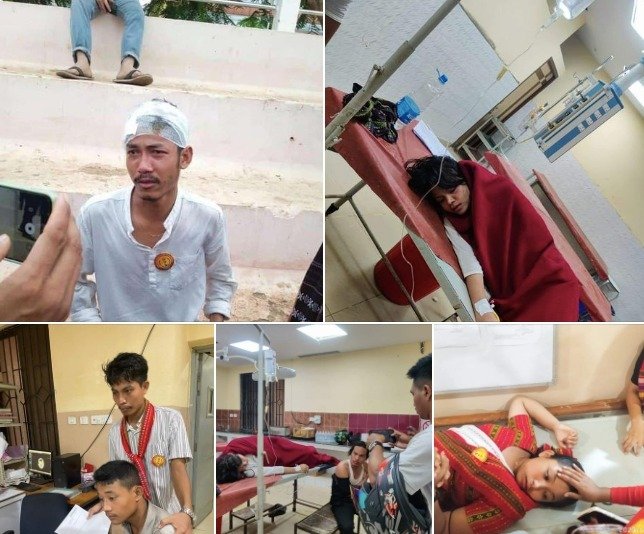 A peaceful rally organized by the Tipra Indigenous Students Federation (TISF), the student wing of TIPRA Motha, turned violent as police personnel resorted to lathi charges and water cannons, leaving more than 20 student agitators injured. The rally aimed to demand the implementation of the Roman script for the Kokborok language, which is spoken by a significant portion of Tripura's indigenous population.
Violent Clash Erupts: The rally, which began at Vivekananda Maidan, was scheduled to conclude with a peaceful demonstration in front of the Governor's House. However, tensions escalated as security forces prevented the student wing from reaching their intended destination near the Circuit House. Chaos ensued, leading to clashes between the agitators and police.
Injuries Amid Allegations: According to Runeil Debbarma, Executive Member of Tripura Tribal Areas Autonomous District Council (TTAADC), more than 12 students, including several females, suffered injuries during the rally. He accused the police of resorting to unnecessary force, including charging lathi at female protesters. Debbarma claimed that the police did not issue any prior warning before escalating the situation.
Outrage and Civil Disobedience Threat: Expressing his outrage, Debbarma declared that the injured students, with four in critical condition, were currently receiving treatment at GB Pant Hospital. He vowed to launch a Civil Disobedience protest across the state in response to the attack on the peaceful rally. Debbarma's strong statement indicates growing unrest and the potential for further clashes between the authorities and protesters.
Language and Cultural Significance: The demand for implementing the Roman script for the Kokborok language stems from its status as the lingua franca of Tripura's indigenous community. With nearly one-third of the state's population speaking Kokborok, the call for recognition and preservation of the language carries significant cultural importance.
The clash between student agitators and police during the rally for the Roman script implementation for the Kokborok language in Tripura has left more than 20 injured. The incident has ignited anger and frustration among indigenous communities, leading to threats of a widespread Civil Disobedience protest. The authorities' response to the peaceful rally raises questions about freedom of expression and highlights the ongoing struggle for language preservation and recognition in the region.