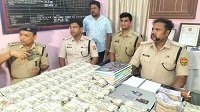 The city police have seized Rs. 90 lakhs in cash during a raid at the house of a rape accused in the Maheshkhala area of the capital city. However, the accused, Prasenjit Paul, remains at large. The police arrested Paul's uncle, Laxman Pal, who was found in possession of the cash. The West District Superintendent of Police, Kiran Kumar, informed the media that Pal is linked to gambling and that the police have started tracing the source of the money with a separate gambling case. Kumar also stated that the main accused in the rape case, Gautam Sharma, has been granted 5-day police remand by the court and will appear in court again on May 15.
The seizure of such a large amount of cash has raised questions about the connection between the accused and other illegal activities. The police have begun an investigation into the source of the cash and are trying to determine if it is linked to any other criminal activity. The fact that Prasenjit Paul, the accused in the rape case, is still at large is a matter of concern for the police.
The incident has sparked outrage among the public, especially women's rights activists, who are demanding swift action against the accused and justice for the victim. The case has brought to light the issue of sexual violence against women in India, which is a serious problem that needs to be addressed.
The police's efforts to track down the accused and bring him to justice are ongoing, and they have requested the public's cooperation in providing any information that could help in the investigation. The seizure of the cash is a positive development in the case and could potentially lead to further evidence that could help in the prosecution of the accused.
The incident serves as a reminder of the importance of swift and decisive action against those accused of sexual violence against women. It also highlights the need for measures to prevent such incidents from occurring in the first place, such as better education and awareness-raising campaigns about sexual violence and its consequences. Only through collective efforts can we create a society where women feel safe and secure.