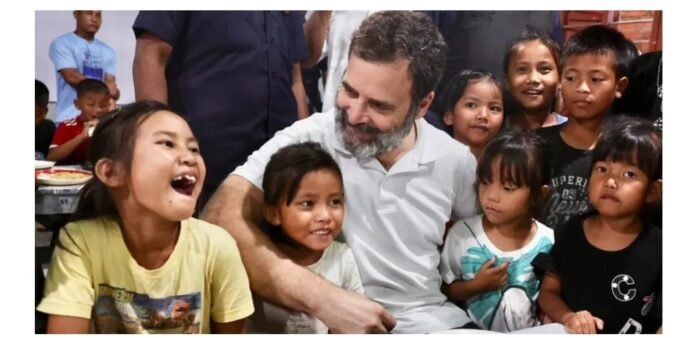 Tensions between political rivals in Manipur escalated today as Union Minister Smriti Irani accused Congress leader Rahul Gandhi of inciting turmoil in the region. The fiery allegations have sparked a war of words, highlighting the mounting pressure ahead of the upcoming elections.
In a highly charged statement, Union Minister Smriti Irani accused Rahul Gandhi of being responsible for the recent unrest in Manipur. She alleged that his actions and rhetoric had contributed to the region being engulfed in flames, creating a challenging situation for the local authorities.
The accusations come amidst an already charged political atmosphere in the state, with both parties vying for supremacy. Irani's remarks have added fuel to the already burning fire, with Congress leaders vehemently denying the allegations. Rahul Gandhi himself took to social media to respond, calling the accusations baseless and politically motivated.
The situation in Manipur has been tense in recent weeks, with reports of protests and clashes between different factions. The state's administration has been grappling to restore calm and maintain law and order. Irani's pointed finger at the Congress leader has added another layer of complexity to the already fragile situation.
While Irani has not provided specific evidence to support her claims, she asserted that her allegations were based on information received from reliable sources. The Union Minister urged authorities to conduct a thorough investigation into the matter to ascertain the truth and hold accountable those responsible for the unrest.
The Congress party has hit back, accusing the ruling government of resorting to diversionary tactics to deflect attention from pressing issues plaguing the nation. They claim that the timing of the allegations is suspicious and an attempt to tarnish Rahul Gandhi's image ahead of crucial elections.
As the war of words escalates, concerns are growing about the potential impact on Manipur's social fabric and stability. The situation warrants a measured and responsible approach from all political leaders to prevent further escalation and ensure the safety and well-being of the people.
The upcoming elections in Manipur will play a pivotal role in shaping the state's future trajectory. As the political landscape becomes increasingly polarized, it is essential for leaders to engage in constructive dialogue and prioritize the welfare of the citizens over personal attacks.
The nation's eyes are now fixed on Manipur, as political leaders from both sides brace for a high-stakes battle for power. The coming days will determine whether the allegations made by Union Minister Smriti Irani against Rahul Gandhi hold weight or if they were merely a product of the charged political climate in the state. Until then, the people of Manipur remain on edge, hoping for a peaceful resolution and a brighter future for their beloved state.