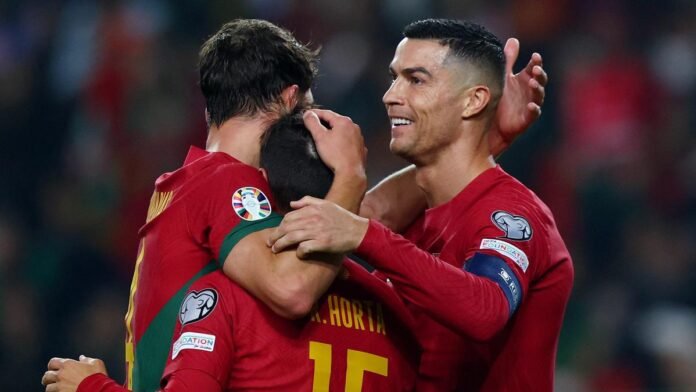 In a resounding display of dominance, Portugal secured their 10th consecutive victory in the Euro 2024 qualifiers, defeating Iceland with a decisive 2-0 margin. The match, played at the Estádio José Alvalade in Lisbon, Portugal, served as a testament to Portugal's unwavering determination and their unwavering commitment to excellence.
From the outset, Portugal took control of the match, dictating the pace and tempo with their skillful passing and relentless attacking prowess. Iceland, despite putting up a valiant defensive effort, struggled to contain Portugal's unrelenting pressure.
The breakthrough came in the 38th minute when Bruno Fernandes, Portugal's talismanic midfielder, unleashed a thunderous strike from the edge of the box. The ball sailed past the outstretched arms of the Icelandic goalkeeper, nestling into the bottom corner of the net to give Portugal a deserved lead.
Portugal continued to dominate the second half, maintaining their attacking intensity and creating numerous scoring opportunities. Their efforts were rewarded in the 66th minute when Ricardo Horta, a substitute, tapped home a loose ball following a saved shot from João Félix. This goal effectively sealed the victory for Portugal, putting the result beyond doubt.
The final whistle signaled the end of a match that had showcased Portugal's exceptional quality and their unwavering desire to succeed. With this victory, Portugal not only secured their qualification for Euro 2024 but also completed the qualifying campaign with an impeccable record of 10 wins and no losses.
Portugal's performance against Iceland was a masterclass in attacking football, characterized by their technical prowess, tactical awareness, and unwavering determination. Bruno Fernandes, with his goal and overall contribution, was the standout performer for Portugal, while Ricardo Horta's well-taken goal ensured Portugal's victory.