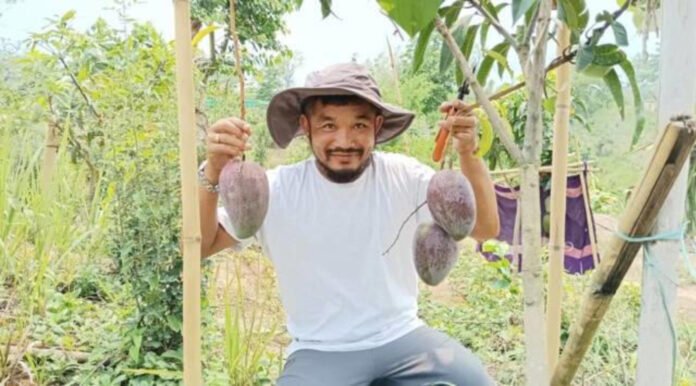 Introduction:
Pragyan Chakma, a former painter and art school owner, has embarked on a remarkable journey from the world of art to become a successful mango farmer in Tripura. Inspired by his visit to a friend's home in Bengal, where he discovered mango trees that bear fruit year-round, Pragyan decided to establish his own fruit orchard. With determination and the help of online resources, he learned about the rare Miyazaki mango variety and successfully grew it on his 4-acre orchard. In this article, we delve into Pragyan's inspiring story of agricultural entrepreneurship and his pursuit of cultivating the highly valued Miyazaki mangoes.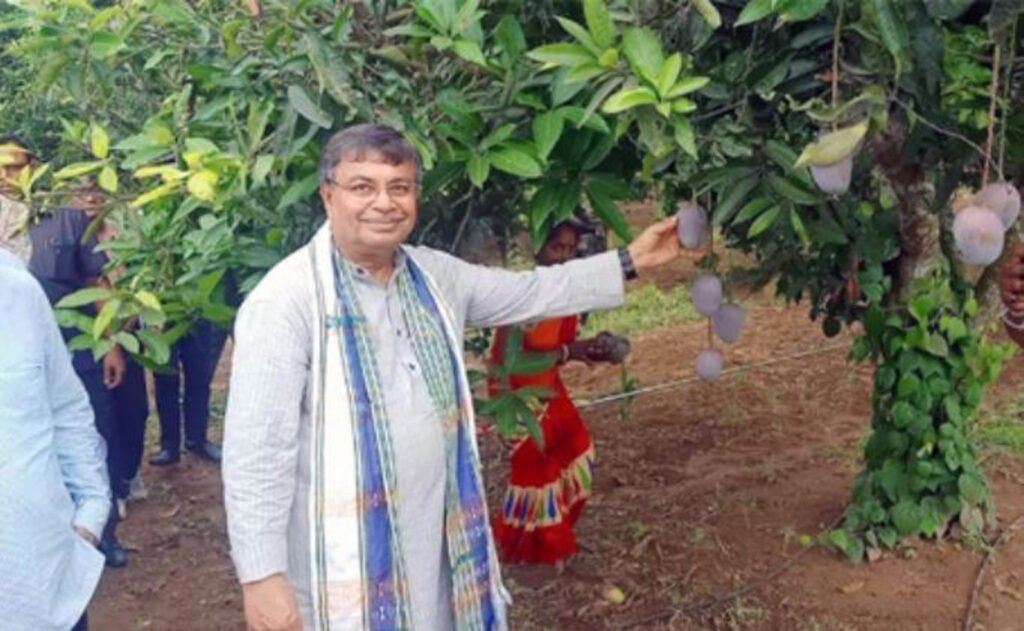 The Pursuit of Miyazaki Mangoes: Pragyan's transition from painting to mango farming was driven by his passion for exploring new possibilities. Fascinated by the Miyazaki mango, a variety not commonly found in his region, he extensively researched its cultivation techniques through online platforms, especially YouTube. Despite lacking assistance from the government, Pragyan persevered and embarked on his journey to grow this unique fruit.
The Enigmatic Miyazaki Mango: Originating from Miyazaki city in Japan, the Miyazaki mango is renowned for its exceptional quality. Weighing over 350g and containing 15% or higher sugar content, it requires specific climatic conditions such as abundant sunlight and warm rainfall for successful cultivation. Pragyan's mango orchard now boasts an assortment of mango varieties, including Khatimon, American Palmer, Rangui, Amrapali, and the prized Miyazaki mango.
The Valuable Ruby Red Fruit: Recognized as the "Egg of the Sun" or Taiyo-no-Tamago in Japan, the Miyazaki mango stands apart from its Southeast Asian counterparts. Packed with beta-carotene, folic acid, and antioxidants, this ruby red fruit offers exceptional taste and nutritional value. In the international market, Miyazaki mangoes can fetch prices as high as Rs 2.75 lakh per kg.
Pragyan's Local Market Endeavors: While Pragyan's Miyazaki mangoes do not possess a Geographical Indication (GI) tag or certification from the horticulture department, he has been selling them at Rs 1,500 per kg in the local market of Gandacherra. With a successful sale of 20 kg last year, he aims to double his sales to approximately 40 kg this year.
Government Support and Growing Interest: Acknowledging the potential of Miyazaki mangoes, state agencies have begun to take notice. The District Superintendent of Agriculture in Dhalai, C K Reang, has extended support to Pragyan by providing technical assistance and constructing a canal. Furthermore, Tripura recently showcased the varietal diversity of mangoes, including Miyazaki, at the Horticulture Research Complex, emphasizing the growing commercial cultivation of mangoes in the state.
Cultivation Requirements: The successful cultivation of Miyazaki mangoes necessitates well-drained soil with a slightly acidic to slightly alkaline pH. Warm weather with daytime temperatures ranging from 25 to 35 degrees Celsius and nighttime temperatures around 20 degrees Celsius is ideal. Adequate rainfall between 1000 to 1500mm per year and proper spacing between trees are essential. Planting Miyazaki saplings during the onset of monsoon, particularly in June or July, is recommended.
Conclusion:
Pragyan Chakma's journey from being a painter to becoming a successful mango farmer in Tripura highlights the power of determination and entrepreneurial spirit. Through his relentless pursuit of cultivating the rare Miyazaki mangoes, Pragyan has not only established a thriving fruit orchard but also inspired others in his community. With growing government support and the recognition of Tripura's mango cultivation potential, Pragyan's story serves as an inspiration for agricultural enthusiasts and showcases the promising future of mango farming in the region.