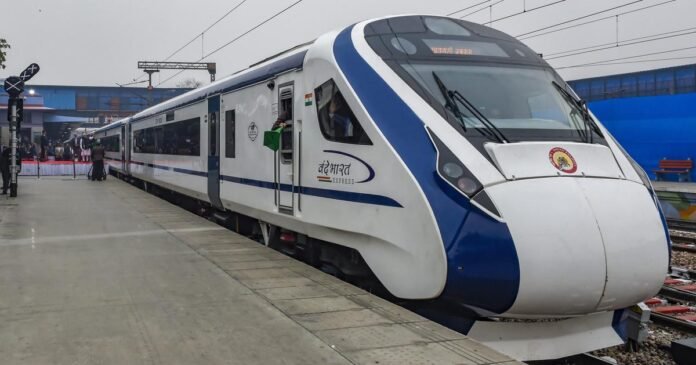 Introduction:
In a significant development for India's railway network, Prime Minister Narendra Modi will inaugurate five new Vande Bharat Express trains simultaneously. This marks the first time that five Vande Bharat trains will commence operations on the same day, connecting different cities across the country. With their state-of-the-art features and semi-high-speed capabilities, these trains are set to revolutionize rail travel in India. In this article, we delve into the details of the new Vande Bharat Express trains and their impact on improving connectivity and travel experience for passengers.
Expanding Connectivity: Routes of the Five New Vande Bharat Express Trains:
The five Vande Bharat Express trains will operate on five different routes, serving key cities in various regions of India. The routes include Mumbai-Goa, Bangalore-Hubli, Patna-Ranchi, Bhopal-Indore, and Bhopal-Jabalpur. This strategic expansion aims to enhance rail connectivity and facilitate efficient transportation across these regions.
Make in India Success: Manufacturing and Features of Vande Bharat Express Trains:
The Vande Bharat Express trains have been manufactured in adherence to the Make in India initiative by the Integral Coach Factory (ICF). These trains showcase advanced engineering and cutting-edge technology, ensuring passenger comfort, safety, and convenience. Notable features include modern seating arrangements, state-of-the-art safety measures, and improved onboard services, providing passengers with an exceptional travel experience.
Enhanced Connectivity and Travel Experience:
The introduction of these new Vande Bharat Express trains is set to revolutionize rail travel in India. With their semi-high-speed capabilities, these trains offer faster connectivity, reducing travel time between cities. Passengers can now enjoy efficient and comfortable journeys, with modern amenities and facilities provided onboard.
Increasing Vande Bharat Express Fleet: Total Count Reaches 23:
With the launch of these five new trains, the total number of Vande Bharat Express trains in operation will increase to 23. This expansion reflects the government's commitment to bolstering high-speed rail connectivity across the country. The growing Vande Bharat Express fleet aims to cater to the rising demand for efficient, safe, and comfortable rail travel.
Conclusion:
The launch of five new Vande Bharat Express trains marks a significant milestone in India's railway sector. With Prime Minister Narendra Modi flagging off these trains, the nation takes a leap forward in improving high-speed rail connectivity. Passengers can look forward to faster and more comfortable journeys, supported by state-of-the-art amenities and advanced safety features. The Vande Bharat Express trains represent the government's dedication to modernizing India's railways and providing a world-class travel experience to its citizens.