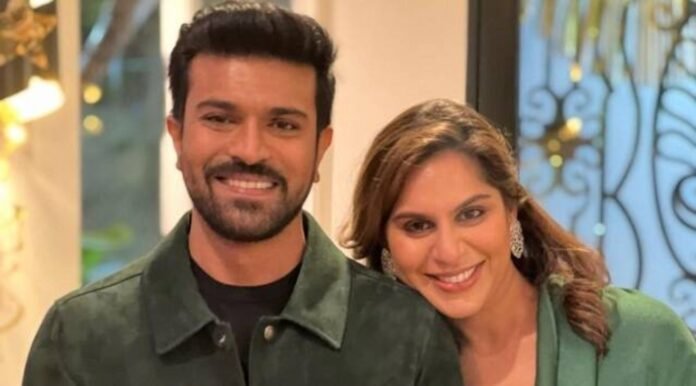 Celebrations Galore: Ram Charan and Upasana Kamineni Konidela Embrace Parenthood
Renowned actor Ram Charan and his wife, Upasana Kamineni Konidela, are overjoyed as they welcome their first child, a baby girl, at Apollo Hospital in Hyderabad. The couple's bundle of joy arrived on Tuesday, June 20, in the newly personalized wing of the hospital, and both mother and baby are reported to be in good health. After 11 years of marriage, this precious addition to their family brings immense happiness to Ram Charan and Upasana.
"Megastar Chiranjeevi Welcomes the New Addition to the Family
In the early hours of Tuesday morning, Megastar Chiranjeevi, father of Ram Charan, along with the entire family, visited the couple at Apollo Hospital to extend their warmest congratulations and to embrace the newest member of the family. The arrival of the baby girl has brought immense joy and happiness to the Konidela and Kamineni families.
Baby Girl's Arrival Sparks Global Celebrations: Fans Rejoice as the #megaprincess Makes Her Debut
Fans from all around the world are filled with excitement and joy as they celebrate the arrival of the #megaprincess. The news of Ram Charan and Upasana's baby girl has spread like wildfire, and social media platforms are buzzing with well-wishes and heartfelt congratulations for the proud parents. The global fan community is eagerly awaiting glimpses of the adorable little one.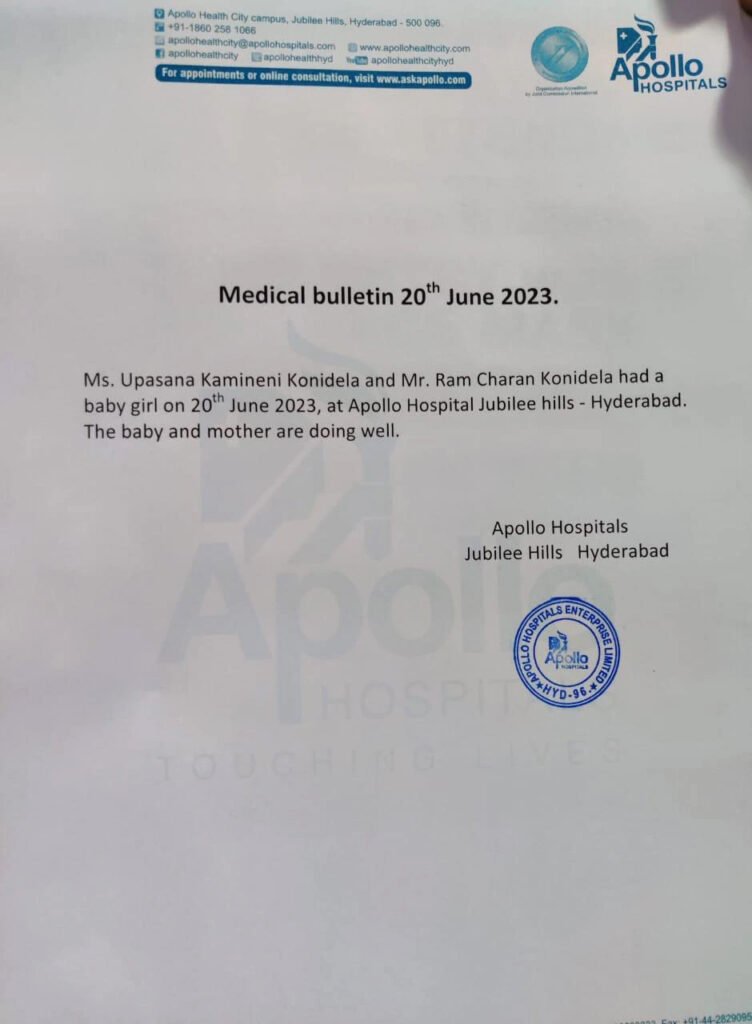 A Special Gift and a Symbol of Hope: Upasana Receives Handcrafted Cradle from Survivors of Sex Trafficking
Upasana Kamineni Konidela shared a heartwarming post on Instagram, revealing a special gift they received prior to the baby's arrival. Survivors of sex trafficking from the #PrajwalaFoundation presented the couple with a handcrafted cradle. The meaningful gift represents strength, resilience, and hope, embodying a journey of transformation and self-respect. Upasana expressed her gratitude and highlighted the significance of exposing her child to such values from birth.
A Journey of Love and Anticipation: Ram Charan and Upasana's Pregnancy Announcement and Celebrations
Ram Charan and Upasana announced their pregnancy in December 2022, sharing their joy and excitement with their fans. Since then, the couple has been showered with love and blessings during multiple baby showers held in Hyderabad and Dubai. They even embarked on a memorable 'babymoon' and attended the Oscars 2023 in the United States. The journey leading up to the birth of their baby girl has been filled with anticipation and cherished moments.
11 Years of Togetherness: Ram Charan and Upasana Celebrate Their Wedding Anniversary
Amidst the anticipation of becoming parents, Ram Charan and Upasana recently celebrated their 11th wedding anniversary. The couple, who tied the knot in a grand ceremony on June 14, 2012, marked another milestone in their journey of love and companionship. The arrival of their baby girl adds an extra layer of joy and celebration to their special bond.
Upcoming Film and Exciting Projects: Ram Charan's Work Commitments
While relishing the joy of parenthood, Ram Charan is also busy with his professional commitments. The talented actor will be seen in director Shankar's upcoming action film 'Game Changer,' opposite actress Kiara Advani. 'Game Changer' is a highly anticipated multilingual film, set to release in Telugu, Tamil, and Hindi. Alongside Ram Charan and Kiara Advani, the movie features a stellar cast including SJ Suryah, Jayaram, Anjali, and Srikanth. Fans eagerly await the release of this promising project, scheduled for later this year.