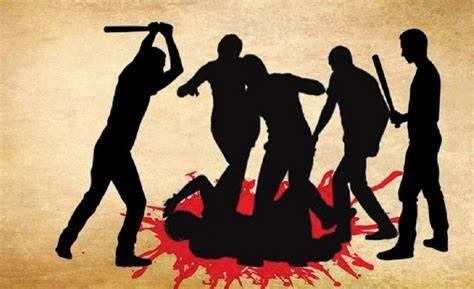 A dreaded criminal and a rape accused named Gerejai Barua alias Raju Barua on Thursday, August 17 was mob lynched and killed by locals of Kilakili village in Assam's district Lakhimpur. Gerejai was on the list of some of the most wanted dreaded criminals of the said district of Assam and escaped from the police custody from a Judicial Magistrate's Court in Dhakuakhana on Tuesday, 16th of August along with two other criminals. One of the two others was nabbed again by the police on Wednesday.
As per reports, the dead criminal was hiding in the Kilakili village after escaping from the police when a few locals of the region caught him in the early morning of the day and thrashed him to death.
Though the Ghilamara police station, under whose jurisdiction the region comes, was informed about Gerejai being caught by the locals but by the time police could reach the spot, more villagers gathered and started lynching the 45-year-old criminal. The police on arriving tried hard to bring the situation under control but failed to prevent the lynching. One policeman and a home guard personnel got injured in the process of preventing the incident.
The offender in an unconscious state was taken to Dhakuakhana Civil Hospital by the police but succumbed to injuries and was pronounced dead by the doctors.
For the last 15 years, dozens of cases related to theft, dacoity, murder, rape, and other crimes have been registered against Gerejai. Prior to this, Gerejai earlier on January 22nd this year escaped the police with handcuffs from a Covid-19 ward of a North Lakhimpur Hospital but was arrested again two days after his escape. He also survived from injuries incurred in an encounter with the police in September last year.
The police, as per reports, have lodged a case of murder against the unidentified people involved in the lynching of the criminal and are trying to identify the individuals involved in the incident.