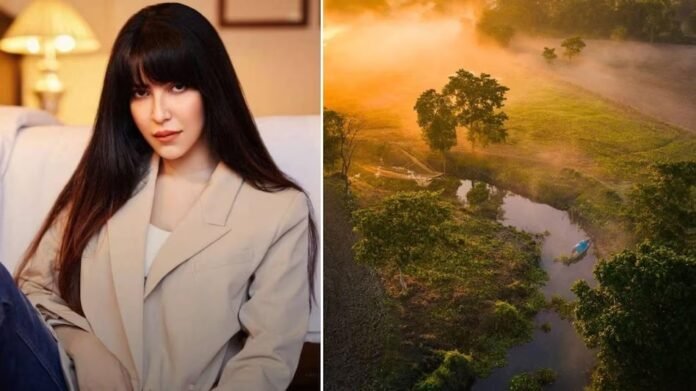 Khanzaadi: A Voice for Assam
Assam-born rapper Khanzaadi has consistently used her platform to bring attention to the rich cultural and natural heritage of Assam. Recently, she took the opportunity to showcase Majuli, the world's largest river island, emphasizing the biodiversity that makes it a unique and fascinating destination.
A Conversation with Abhishek Kumar
In a conversation with television celebrity Abhishek Kumar, Khanzaadi delved into the diverse ecosystem of Assam. Her aim was to shed light on Majuli's exceptional features, bringing forth its significance not only as a geographical marvel but also as a hub of biodiversity.
Majuli: World's Largest River Island
Majuli, situated on the Brahmaputra River in Assam, holds the distinction of being the world's largest river island. Spanning an area of about 352 square kilometers, it is known for its scenic beauty, cultural richness, and unique ecological features. The island faces challenges such as erosion, but its allure remains intact.
Khanzaadi's Contribution to Assam's Representation
Firoza Khan, widely known as Khanzaadi, has made a mark in the Indian music scene with her rap performances. Her appearances on prominent platforms like 'Bigg Boss Season 17' and MTV Hustle 2.0 have provided her with a national stage to not only showcase her musical talent but also to highlight the beauty and diversity of Assam.
Recent Controversy on Bigg Boss 17
While Khanzaadi has been successful in using her platform to promote Assam, she recently faced criticism for interruptions during Bigg Boss 17's Weekend Ka Vaar on Diwali. Salman Khan's response to her behavior sparked a backlash, with some viewers accusing the actor of unnecessary aggression and bias against certain contestants.
Khanzaadi's journey as an artist continues to be a source of pride for Assam, and her efforts to spotlight the state's cultural and natural treasures contribute to a broader appreciation of the region.