Nongthombam Maipak's Illustrious Journey
Former Mr India title holder and renowned bodybuilder Nongthombam Maipak has passed away at the age of 88. The veteran athlete, who left an indelible mark on the world of bodybuilding, breathed his last at the Regional Institute of Medical Sciences (RIMS) hospital in Imphal, Manipur, where he was undergoing treatment for an illness.
Early Life and Birthplace
Nongthombam Maipak, born on June 12, 1935, in Uripok Sorbon Thingel Sinam Leikai, Imphal West district, Manipur, had a remarkable career in bodybuilding and athletics. In 1970, he achieved the prestigious Mr India title, showcasing his dedication and prowess in the sport. The following year, Maipak represented India at the Mr Universe competition in Paris, securing the 10th position among global contenders.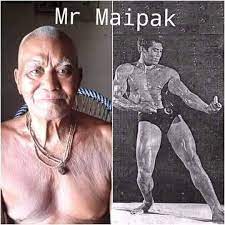 Triumph in Bodybuilding
Maipak achieved national acclaim by clinching the prestigious Mr India title in 1970. His dedication and prowess earned him the opportunity to represent India on the global stage.
Global Recognition
In 1971, Maipak showcased his physique at the Mr Universe competition in Paris, France, securing the 10th position. This global platform amplified his legacy as a bodybuilding luminary.
Multifaceted Athlete
Beyond bodybuilding, Maipak demonstrated his athletic prowess by participating in the 1958 Delhi national games. His exceptional performance in the hammer throw event not only represented Manipur but also set a new national record.
Fond Farewell and Condolences
Hospital Stay and Battle with Illness
In his final days, Maipak faced health challenges, leading to his admission to the Regional Institute of Medical Sciences (RIMS) hospital in Imphal.
Enduring Legacy
Survived by his wife, four sons, and three daughters, Nongthombam Maipak's legacy extends beyond titles and accolades. His contributions to the realms of bodybuilding and athletics have left an indelible mark.
Chief Minister's Condolences
Manipur Chief Minister N Biren Singh expressed deep condolences, acknowledging Maipak's significant achievements and the pride he brought to the state. The CM highlighted Maipak's role as a source of inspiration for future generations.
In commemorating Nongthombam Maipak, Manipur reflects on the vibrant chapters of a life devoted to physical excellence and sporting glory. May his soul rest in eternal peace.