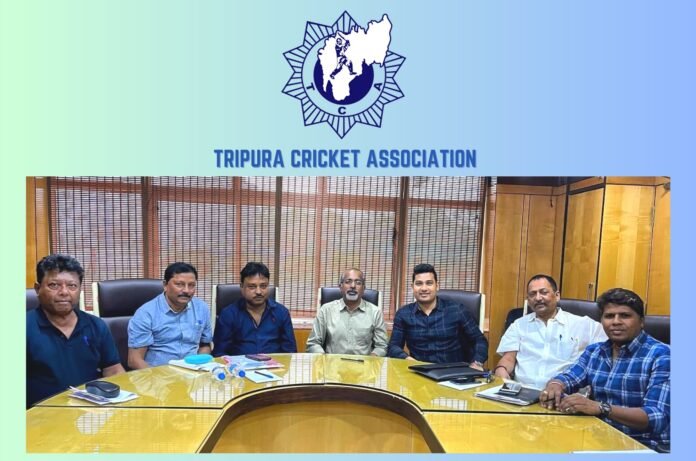 In a momentous occasion for the cricket fraternity, Shri Jayant De, the Hon'ble Joint Secretary, proudly represented the prestigious TCA (Tripura Cricket Association) at the highly anticipated Selection Meeting held today. The outcome of this crucial gathering has left cricket enthusiasts in awe as the promising talent, Mani Shankar Murasing, has been selected as the sole player from the association to grace the cricketing arena.
Amidst stiff competition and rigorous evaluations, Murasing's remarkable skills, unwavering dedication, and immense passion for the sport shone through, ultimately securing him this well-deserved opportunity. As the news of his selection spreads like wildfire, the cricketing community is buzzing with excitement, eager to witness Murasing's astounding prowess on the field.
Representing TCA is no ordinary feat, as it boasts a rich history of nurturing exceptional cricketers who have gone on to achieve great heights. With this coveted chance, Mani Shankar Murasing is poised to join the ranks of the cricketing legends who have proudly donned the TCA jersey in the past.
As the upcoming tournament draws near, the TCA management, fellow players, and fans are rallying behind Murasing, extending their heartfelt support and best wishes. The spotlight will now shine brightly on this budding talent, who will carry the hopes and dreams of the association on his shoulders.
The selection of Mani Shankar Murasing serves as a testament to TCA's commitment to identifying and nurturing extraordinary talent. It reaffirms their dedication to providing a platform for budding cricketers to showcase their skills and realize their full potential.
With the entire cricketing fraternity eagerly anticipating the upcoming tournament, the stage is set for Mani Shankar Murasing to leave an indelible mark on the game. May fortune favor this talented cricketer as he embarks on this exhilarating journey, carrying the dreams of TCA on his shoulders. Best of luck, Mani Shankar Murasing – the cricketing world awaits your extraordinary performances!