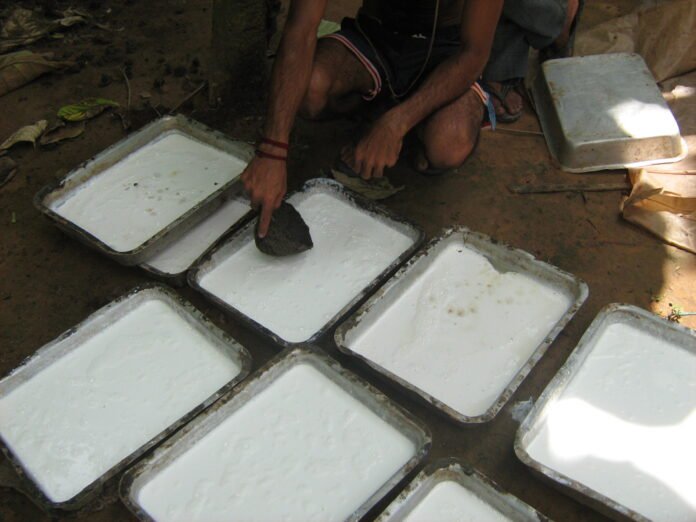 Rubber growers in Tripura are facing a worrisome situation as the market price of rubber continues to remain significantly below its production cost, despite a marginal rise in recent times. Concerned about the prevailing conditions, a delegation of rubber growers from South Tripura District recently met Chief Minister Dr. Manik Saha during his visit to Shantir Bazar to apprise him of the situation.
The rubber growers expressed their distress over the current state of affairs, pointing out that there was a time when rubber used to be sold at rates ranging from Rs 160 to Rs 170 per kilogram. However, according to newspaper reports, the market price now hovers between Rs 130 to Rs 135 per kilogram in upcountry markets. In contrast, in Tripura, the rubber growers are receiving no more than Rs 100 to Rs 110 per kilogram.
The growers further emphasized that while they recently had to increase the wages of rubber tappers, the prices they are currently receiving do not even cover the production costs. They appealed to the Chief Minister to intervene and seek viable solutions to this pressing issue.
The declining market price of rubber has become a matter of great concern for the rubber growers in Tripura. The inability to fetch a fair price for their produce has significantly impacted their livelihoods and the overall economic viability of rubber cultivation in the region.
The Chief Minister's intervention and prompt action are crucial in addressing the challenges faced by the rubber growers. It is imperative to find effective strategies that can ensure fair and remunerative prices for rubber in the market, providing relief to the struggling farmers.
To mitigate this issue, potential measures could include engaging with stakeholders, such as rubber cooperatives, industry experts, and market regulators, to explore avenues for increasing the value of Tripura's rubber in the market. This could involve enhancing product quality, exploring value-added processing techniques, and identifying new markets to expand the reach of Tripura's rubber growers.
Furthermore, the government could facilitate the establishment of marketing channels that connect the rubber growers directly with consumers, eliminating intermediaries and ensuring that farmers receive a fair share of the profits. Providing financial assistance, technical training, and infrastructure support to rubber growers could also enhance their productivity and help them reduce production costs.
Addressing the concerns of rubber growers and devising comprehensive strategies to improve their economic conditions is not only crucial for their well-being but also for the overall growth and sustainability of the rubber industry in Tripura. Through collaborative efforts between the government, industry stakeholders, and the rubber-growing community, it is possible to find viable solutions that uplift the lives of the farmers and secure the future of rubber cultivation in the state.