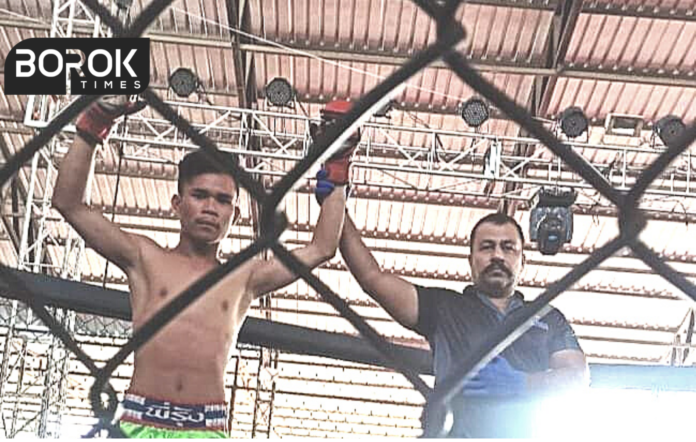 Saijak Debbarma wins Silver Medal at MMA India National Championship held at Neemuch (Madhya Pradesh) from 19th to 22nd May 2022.
Saijak Debbarma won his semi-final on Saturday with a splendid performance against his opponent from Telangana and created a history by becoming the first person to win Silver Medal in MMA Tripura in seven years since 2015 at a National level.
The Founder and Technical Director of MMA Tripura, Mr. Kru Raymond Bongcher congratulated him and wished him luck for his final match. His victory is also celebrated by the youths through social media posts and congratulated him. Saijak will be fighting for gold in his final soon.
Saijak, the talented MMA fighter from Tripura, has received warm wishes and congratulations from the founder and Technical Director of MMA Tripura, Mr. Kru Raymond Bongcher. As Saijak prepares for his final match, Mr. Bongcher extended his congratulations and wished him luck for the upcoming bout. The exciting news of Saijak's victory has spread like wildfire among the younger generation, who have taken to social media platforms to express their joy and admiration for the skilled fighter.
Saijak's remarkable journey in the MMA arena has captivated the hearts of many, and his impending final match has heightened the anticipation. The youth, in particular, have eagerly embraced his accomplishments, sharing their excitement through numerous social media posts that overflow with congratulations and messages of support.
With the gold medal at stake, Saijak's upcoming final match holds tremendous significance not only for him but also for his devoted fans. The dedication and perseverance he has demonstrated throughout his career have made him a role model for aspiring fighters and enthusiasts alike. His exceptional skills and unwavering determination have earned him admiration from all corners.
As the day of the final match approaches, Saijak stands on the precipice of greatness. The entire MMA community, alongside his supporters and well-wishers, eagerly await the outcome of this pivotal encounter. With his exceptional talent and the backing of a devoted fan base, Saijak is determined to give his all and vie for the gold.
The triumphs of Saijak's journey are a testament to his indomitable spirit and relentless pursuit of excellence. Regardless of the outcome, his achievements in the MMA arena have already left an indelible mark, inspiring countless individuals to chase their dreams with unyielding determination.
As the final match draws near, the excitement continues to build, and the hopes of an entire community rest on Saijak's shoulders. With the unwavering support of his fans and the blessings of Mr. Kru Raymond Bongcher, Saijak prepares to step into the spotlight, ready to leave an everlasting legacy in the world of MMA.