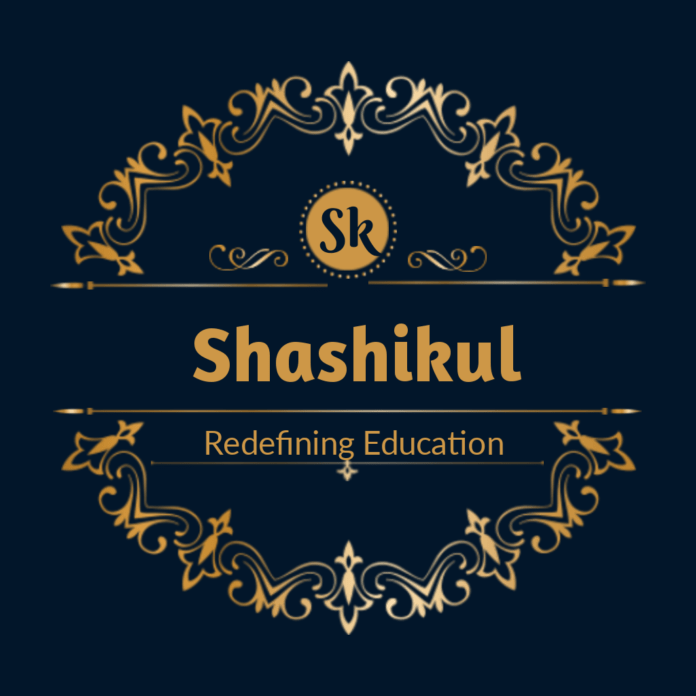 Shashikul ( www.shashikul.com ) has become a bug name in education and travel. It provides various services such as career counseling, study abroad, online tuitions for students of class 1 to class 12, study through the app for students of class 1 to class 12, and various courses in disparate fields like accounting, marketing, management, call center, programming, hardware, networking, SEO, social media marketing and many more. Apart from this, it also provides both domestic and international tour packages at a very less cost along with economical flights and hotels.
Shashikul has a platform Shashikul Edura ( www.shashikul.net ) which is an education social network. Apart from networking with other students of Shashikul and making friends, the students can learn a lot in various subjects through video lessons for free. The subjects range from vedic maths, memory techniques, geography, programming, yoga, martial arts, exercise and a lot more. Students can share their status updates, pictures, documents and a lot more on their Edura profile. Students get access to Edura on taking any service of Shashikul.
Similar to Edura, Shashikul also has another platform Shashikul Pictora ( www.shashikul.org ) where students can share pictures with one another and follow one another. They can also make short videos with various effects and share with their followers. They can like pictures and videos, comment on them and also share them. Students also get access to this platform on taking any service from Shashikul.
Shashikul has a platform Examera ( www.shashikul.biz ) which provides mock tests and practice tests for almost all the exams in India. Students can prepare for their exams by taking these mock tests at a price starting with Rs. 99 only. There is also an app for Shashikul Examera which can be downloaded from playstore. (https://play.google.com/store/apps/details?id=com.app.testseries.shashikul&hl=en&gl=US ).
Shashikul has a career counseling platform ( www.shashikul.co ) where students can take a psychometric test according their class/grade and can get a comprehensive report of their personality, career interests, motivators, career recommendations, career paths and a lot more. It is suitable for students and professionals alike. The test taker can get a lot of insights about himself and his future through this career counseling test. If needed, student can also opt for additional one on one session with career counselor to get better insights and recommendations. Once student has taken the test and availed the report, he gets permanent access to student dashboard section where he can see his psychometric test results and can also browse colleges and universities and can take information about their courses and deadlines, along with the university website and phone number. There is also a section of 'Check Suitability' where a student can check his suitability for a particular profession.
Shashikul's study abroad section (www.shashikul.co/studies-abroad ) gives facility where students can take a profiling test where they have to answer some questions. On the basis of this test, they are given a report of country and college recommendations along with their probability of getting admission in a particular university at a price of just Rs 500. There are no charges for study abroad consultancy or visa processing. Shashikul provides admissions in universities of almost all countries of the world.
Shashikul has an IELTS app from where students can prepare for IELTS exam anytime, anywhere through video lectures, practice tests, mock tests and 15 one on one sessions. The course duration is of 3 months and costs Rs 2000 only.
Shashikul provides various courses in disparate subjects like management, marketing, accountancy, administration, SEO, social media marketing, digital marketing, fashion designing, carpentry, office automation, data entry, information technology, AutoCAD, game and graphic designing, animation, video editing and mixing, photography, dance teacher training, music teacher training, bookkeeping, taxation, finance, ethical hacking, cyber security, mobile phone and laptop repairing, meditation techniques, acupressure healing, yoga coaching, nursery teacher training, business communication, personality development, telecommunication, tailoring and design, hotel management, cutting and sewing, hospitality and tourism management, stenography, mechanical engineering, beauty therapy, air conditioning and refrigeration, agriculture and a lot more fields. The course duration ranges from 3 months to 24 months and the average cost of every course is just Rs 1000. The student gets a diploma/certificate after completion of course.
Shashikul also has an app Shashikul Schoolsy (https://play.google.com/store/apps/details?id=com.shashikulschoolsy )from which students fromclass 1 to class 12 can learn every subject from the app through video lessons, animations, tests, quizzes, assessment etc. The cost of subscription of this app is only Rs 2500 per year.
Shashikul also provides live online tuitions to students from class 1 to 12 for all subjects at a price ofRs 3500 per year only. Apart from regular subjects, this also includes yoga and personality development sessions for all round development of the students.
Shashikul also has a blog section ( www.shashikul.com/blog ) which is continuously updated with interesting articles on education, career and travels.
Through the appointment section, a visitor can book an appointment with a counselor at Shashikulfor career counseling or study abroad counseling. If any student is facing any problem, he can raise a ticket in help section which is addressed by Shashikul's executives asap.
Shashikul also has a tour and travel platform ( www.shashikul.in ) where people can book tour packages at economical rates and also book flights and hotels at very less rates. The tour packages are for both domestic and international destinations. Special care is taken of every client while he is on tour conducted by Shashikul. He is added to a whatsapp group where our team members assist him in every situation and make sure that his experience is pleasant.
Shashikul has revolutionized education and travel by bringing low cost hiqh quality products in the market. It has made education and travel accessible to all. Rupansh Ashwani, the name behind Shashikul ( www.shashikul.com ) has ensured that the education and travel are not restricted to a few. Within a very short time, Shashikul has made a big name in the national and international market and has amassed a lot of customers for each of its products. The way it is going, it will soon be a force to reckon with.
Contact:
Name : Rupansh Ashwani
Mobile : +91 7888699919
Email : [email protected]
Website : http://www.shashikul.com