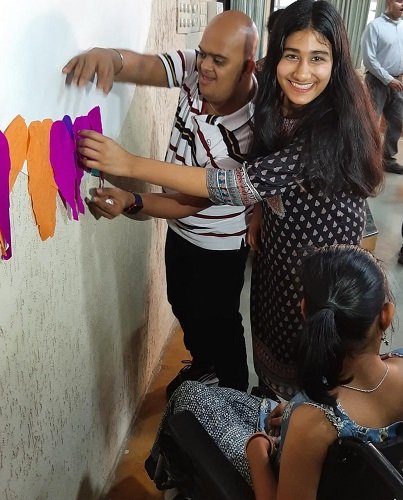 Siblings of the Exceptional, an organization dedicated to supporting Cerebral Palsy (CP) and special needs children, is making a significant difference in the community. Founded by Reema Patel, a 14yrs old young Indian American girl, the organization focuses on raising awareness, providing resources and fostering inclusion for individuals with CP, special needs and their families. By emphasizing the organizations goals, achievements, and the positive changes it brings to the community are showcasing the collective effort in supporting CP and special needs children. This approach allows them to promote the cause and create awareness about Cerebral Palsy within the community.
Reema Patel enjoying a fun game together with a special needs child
According to recent statistical data, in India alone, there are approximately 17 million children with special needs, including cerebral palsy and various other conditions. In India, it is estimated at around 3 cases per 1000 live births; (source: Article published by National Library for Medicine www.ncbi.nlm.nih.gov/pmc/articles/PMC3764881/) however, being a developing country the actual figure may be much higher than probable figures. There are about 25 lakh CP children in India as per www.dnaindia.com/health/report-over-25-lakh-children-affected-by-cerebral-palsy-say-doctors-1735940.
"More than 90% of cerebral palsy patients with physical disability can lead a normal life with early diagnosis and proper medical treatment," Veena Kalra, Specialist Paediatric, Neurology and Ex Professor & Head Pediatrics, AIIMS said.

Recognizing the significance of these numbers and the impact on families, Reema took it upon herself to provide a platform for siblings of these exceptional children to connect, share experiences, and find solace in a nurturing community. Through the efforts of Siblings of the Exceptional, strides are being made to address these statistics, improve the lives of CP children, and promote a more inclusive society.
The Initiative to Bond CP Patients with Their Siblings:
Siblings of the Exceptional also focuses on fostering sibling bonds among CP patients. Recognizing the importance of these relationships, the organization organizes events and programs that promote a stronger bond between siblings and children with special needs. By doing so, they create a supportive and inclusive environment for CP patients and their families.The latest event took place on june 24th, 2023 at Pune where a substantial amount was donated by Reema Patel to the Buddy Center institute which is an initiative by Kunashini. The esteemed chief Guest, Dr. Archana Kadam, praised Reema Patels extraordinary efforts and offered valuable insights on raising awareness about Cerebral Palsy and special needs.The event served as a platform to foster a sense of community and create lasting memories.
Fundraising Efforts:
To date, Siblings of the Exceptional has successfully raised approximately US$9,740 (approximately Rs. 800,000). These funds have been instrumental in supporting numerous NGOs in India that work tirelessly to meet the basic needs of CP children, providing them with vital resources, therapies, and a nurturing environment. This highlights the impact and effectiveness of the organizations fundraising efforts.
The world too can Join the Cause of Siblings of the exceptional. The dynamic Reema Patel passionately appeals to individuals, organizations, and the wider community to support the noble cause of Siblings of the Exceptional. Donations and fundraising efforts play a pivotal role in enabling the provision of essential resources and services to CP children in need. By contributing to the cause, you can make a tangible difference in their lives.
To learn more about this inspiring journey, contribute to her cause, or participate in upcoming events, please visit Siblings of the Exceptional at www.siblingsoftheexceptional.com.
​