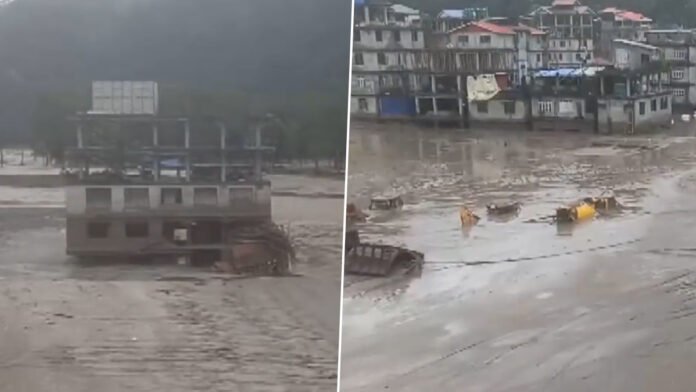 In the wake of the devastating floods that wreaked havoc in the Chungthang area of Sikkim, demands for a Central Bureau of Investigation (CBI) inquiry have gained momentum. The catastrophe, which occurred in the early hours of October 9, led to the loss of lives, destruction of property, and widespread distress.
The demand for a CBI inquiry has arisen due to the alleged mishandling of a glacial lake burst that triggered the floods. Reports suggest that the local authorities were slow to respond and that warning signals were not heeded, resulting in a significant loss of life and property.
The tragic incident occurred when the Lhonak Chu river, located near the Lachen and Lachung valleys, swelled due to the breach of a glacial lake. The resultant flash floods led to the inundation of villages and hamlets, trapping residents and causing severe damage.
Local residents and activists have been vocal about the need for a CBI inquiry to investigate the circumstances that led to the disaster. They argue that a thorough investigation is essential to determine whether any negligence, misconduct, or lapses in disaster management contributed to the magnitude of the catastrophe.
Seeking Security and Support
The call for a CBI inquiry has found support from several quarters, including political leaders and environmentalists. They believe that a comprehensive investigation by the CBI will help uncover the truth and ensure accountability for any lapses that may have occurred.
Sikkim, a state known for its pristine natural beauty, is particularly vulnerable to natural disasters such as floods and landslides. Its hilly terrain and proximity to the Himalayas make it susceptible to glacial lake bursts, particularly as a result of climate change and glacier melt.
The Sikkim government has initiated relief and rehabilitation efforts, providing assistance to affected families and individuals. However, the demand for a CBI inquiry remains, as residents and activists seek answers and accountability.
The tragic incident in Chungthang serves as a reminder of the importance of disaster preparedness and response in vulnerable regions. Climate change and its impact on glacial lakes and river systems make it essential for authorities to prioritize early warning systems, disaster management, and infrastructure that can withstand natural calamities.
A CBI inquiry, if initiated, could shed light on the sequence of events leading to the Chungthang floods and help prevent similar tragedies in the future. It would also provide closure to the affected families and communities who have suffered immeasurable losses.
As the call for a CBI inquiry gains momentum, the government and relevant authorities will need to consider the demands of residents and environmentalists seriously. The investigation, if undertaken, should be thorough and transparent to ensure that lessons are learned and accountability is established for the tragic incident in Chungthang.