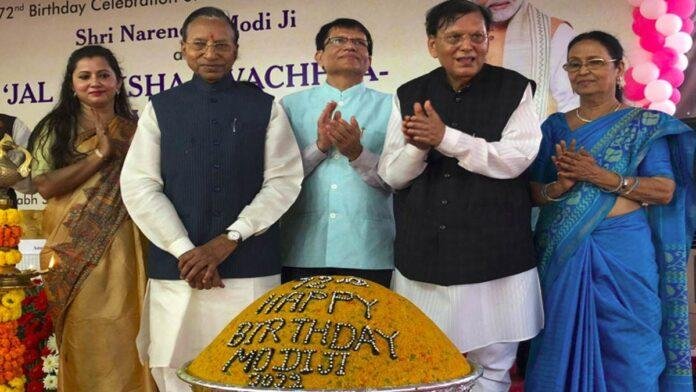 On the occasion of 72nd birthday of Prime Minister Narendra Modi, Water Education Sanitation Service Day was celebrated at Sulabh International, Mahavir Enclave. The Governor of Sikkim, Ganga Prasad was present as the chief guest. On this occasion, he inaugurated Sulabh International Water Museum and Prime Minister's photo exhibition.
Ganga Prasad said that Prime Minister Narendra Modi has guided India and has taken India's honor and respect to great heights in the world. There was a time when India was the world guru. But India remained a slave for many years and during this time an attempt was made to end India's art, skill, skill ancient culture, Veda Purana.
Ganga Prasad said that after 25 years, when India will be celebrating the 100th anniversary of independence, at that time where will India stand, for this we all have to get together in preparations from today itself. So that India may be ready again in the form it had been in ancient times. He appealed to the youth to create job opportunities by creating new industries and technology instead of running after jobs. The officials should go among the farmers and tell them about the new technology.
He told that in Sikkim, we have adopted many villages and done many reforms there. Saffron saplings were planted as an experiment at a small place in Sikkim two years ago. Its scope was expanded in the year 2021 and it was found that saffron is getting good yield in Sikkim. During the investigation, the quality of Kashmir was found in it. After this, Sikkim signed a five-year agreement with Kashmir in which the scientists of Kashmir and Sikkim would together explore new possibilities of farming. There is no such reason in today's time that India could not move forward. India is capable.
Many developed countries had banned during the Pokhran trial in Rajasthan. But at that time Prime Minister Atal Bihari Vajpayee showed faith in scientists, in the same way Prime Minister Narendra Modi also has full faith in the youth of the country. Youth are acting as engines to take India forward. India is guiding the world as an engine. Everyone has to work together to make India clean and self-reliant. Referring to the lines of Swami Vivekananda, Ganga Prasad said, Arise, awake and stop not till the goal is achieved. During this, Dr. Bindeshwar Pathak, his wife Amol Pathak, Dr. Pratibha Singh from UNICEF India and Dr. Mahesh Bhai M Trivedi, Vice Chancellor of Maharaja Krishnakumar Singhji Bhavnagar University were also present.
On the occasion of Prime Minister's birthday, 72 kg laddus were arranged in the Sulabh complex. Birthday was celebrated by cutting laddus. Along with this, photographs from the childhood of the Prime Minister till date were put in the photo exhibition.