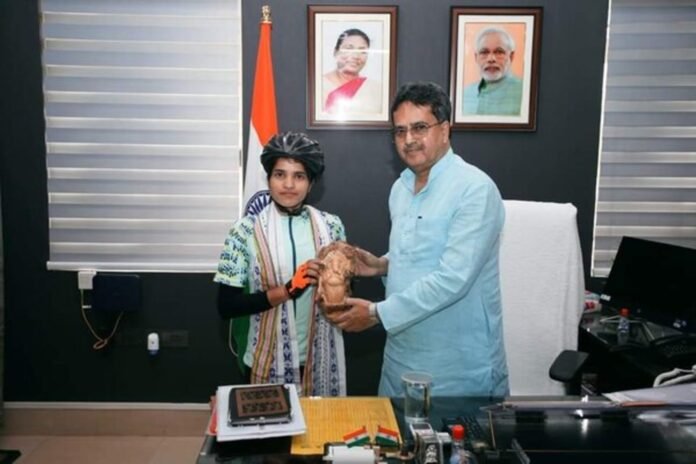 Aasha Malviya, a solo cyclist from Nataram village in Madhya Pradesh, recently paid a courtesy visit to Chief Minister Dr. Manik Saha at his official residence in Tripura. With a message of "Woman Safety & Woman Empowerment," Malviya has already covered 20 states, traveling approximately 16,600 km since commencing her journey from Bhopal on November 1, 2022. Her goal is to cover 25,000 km within 10 months, and Tripura marks her 20th state on the tour. The Chief Minister praised her adventurous spirit and provided financial support, recognizing her efforts as an embodiment of true woman empowerment.
Aasha Malviya embarked on her remarkable solo cycling tour across India to raise awareness about woman safety and empowerment. Her journey symbolizes courage, determination, and the resilience of women across the nation. Starting from Bhopal, she has pedaled her way through various states, covering an impressive distance of approximately 16,600 km. The objective of her expedition is to spread the message that women are capable of achieving great heights and that their safety and empowerment should be a top priority for society.
During her visit to Tripura, Aasha Malviya expressed her delight at experiencing the state's mesmerizing beauty. She paid a courtesy visit to Chief Minister Dr. Manik Saha, who shared her concerns about woman safety and empowerment. The meeting was a platform for Malviya to discuss her journey, the challenges she has encountered, and the impact she aims to create through her message. She commended the humble and sincere nature of the state administration officials and acknowledged their commitment to the cause.
The Chief Minister of Tripura, Dr. Manik Saha, commended Aasha Malviya for her extraordinary endeavor and recognized her as an inspiration for woman empowerment. He acknowledged the importance of spreading awareness about woman safety and appreciated the cyclist's efforts in promoting this crucial message. In a social media post, the Chief Minister expressed his admiration for Malviya's adventurous spirit and extended financial support to assist her in continuing her journey.
As Aasha Malviya pedals through the diverse landscapes and cultures of India, her journey stands as a testament to the strength and resilience of women. By traveling solo and covering extensive distances, she defies societal norms and challenges prevailing perceptions about women's capabilities. Malviya's dedication to her cause resonates with individuals across the nation, inspiring women and men alike to reevaluate their attitudes towards gender equality and safety.
Aasha Malviya's solo cycling tour across India to advocate for woman safety and empowerment is a remarkable initiative that highlights the strength and determination of women. Her visit to Tripura and meeting with Chief Minister Dr. Manik Saha symbolize the support and recognition she has received for her efforts. By pedaling through different states, Malviya not only raises awareness but also serves as a role model for women across the country. Her journey inspires individuals to work towards creating a safer and more empowering society for women, while also challenging stereotypes and breaking barriers along the way.