Priya Bawankar is a professional fashion designer & stylist with over a decade of experience. She has made a name for herself through her innovative designs, which she has presented at various events. She is a very dedicated person with a charismatic personality who wins the hearts of everyone she meets. She is originally from the small town of Durg in Chhattisgarh, where she completed her education and developed an interest in creating statement pieces that reflect her personality in a simple yet elegant manner.
Priya Bawankar began her career in the fashion industry as a Senior Designer in a studio where she worked on custom-designed mens wear after completing her studies in Fashion Design. After gaining experience, she launched her designer boutique, Silhouette, in 2016, specializing in the design, styling, and customization of clothing for both men and women.
Priya Bawankar believes that to bring out the big change you need to take small steps with a strong foundation. So she started teaching and her practical approach to the subjects made her favourite amongst students who also intern at her boutique to gain experience. Her dedication towards teaching in the institution made her Head of the Department for Creative Studies – Fashion Design, Interior Design, Graphics and Animation, Web Design and Development, Photography etc.
Priya showcases strong leadership in everything she does and her passion can be seen in the pieces she meticulously crafts. She has remarkable achievements which include the Guinness world record & a unique world record in the vibes 360 fashion show as a designer and coordinator. She has been a coordinator of Bangalore fashion week and the main coordinator of Sparsh – 2 and Sparsh – 3, acclaimed as the biggest fashion show ever in Durg and Bhilai (Chhattisgarh).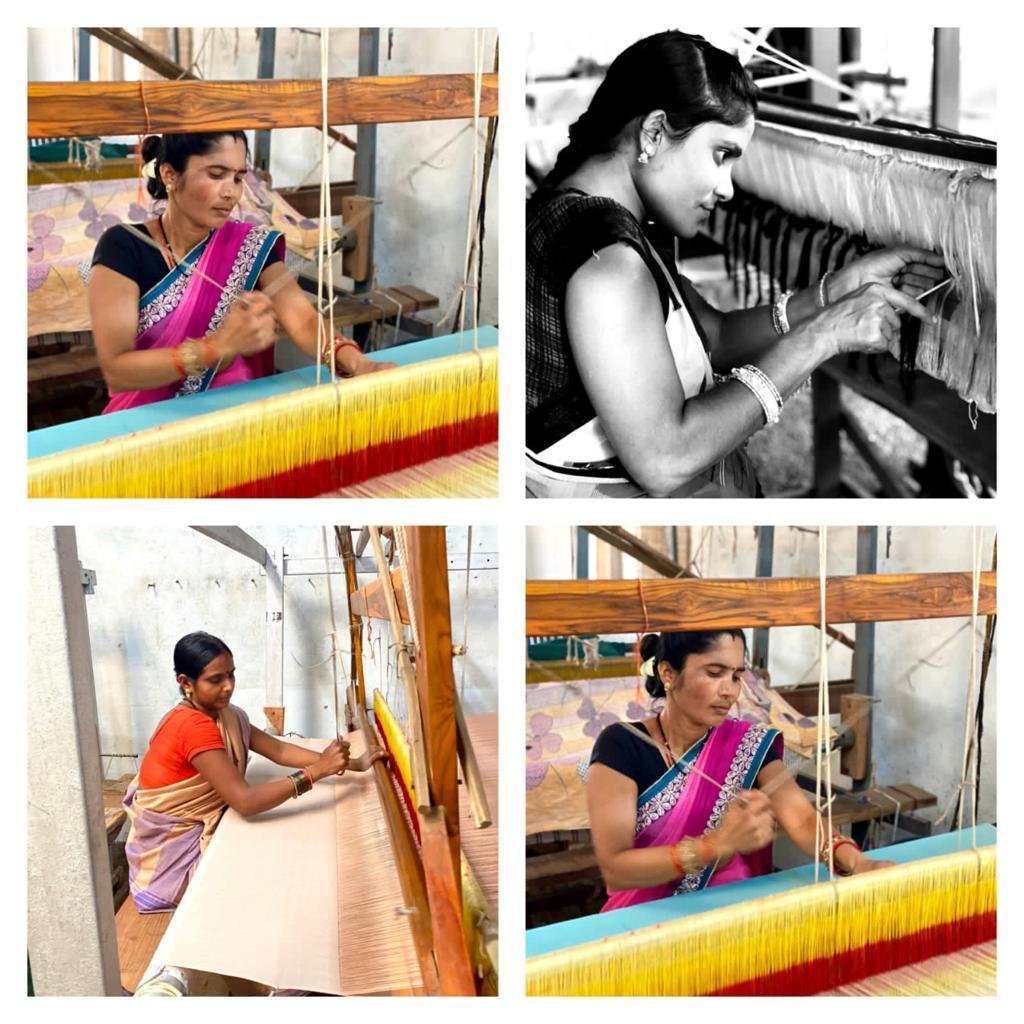 While working with different fabrics, it's when she realized that the technique of weaving cotton textiles is disappearing. With a mission to revive the lost form of hand weaving technique to manufacture cotton fabric, she founded Swastik Weavers and Designer in the year 2021. It is one of a kind of manufacturing unit that creates pure hand-woven cotton fabrics every day.
Priya Bawankar is a firm believer in empowering women by providing them with the opportunity to learn and generate a source of income by employing them in the manufacturing unit. She plays an exceptional role model for the women who are employed in the local village in the art of hand-weaving. She conducts regular training sessions and occasional workshops free of cost for them to teach about hand-weaving and handcraft. This keeps them up to date with the latest techniques.
Priya Bawankar demonstrates the versatility of the final hand-woven fabric by doing hand painting, the dying  process, printing, hand embroidery and all types of applique work. She follows a sustainable approach and turns small waste pieces of fabric into stunning hand-crafted jewellery. She has worked with Mrs Prerna Dhabarde for designing and styling her final dress for the event of Mrs Universe. Mrs Dhabarde won the title of Mrs Universe Central Pacific Asia and Mrs Universe Best Performance.
Priya Bawankar also participated in the prestigious show of Taj Mahotsav 2023 organized by the UP Government at Agra. It was a cultural fashion show where designers from across India showcased their state's traditional wear. Priya represented Chhattisgarh and its traditional wedding wear in a contemporary style. The garments highlighted components of Chhattisgarh's culture uniquely.
Priya Bawankar has been selected as the National Core Committee member of the World Designing Forum from Chattisgarh. This is a significant achievement for her and showcases her skill and talent in the field of design. Apart from this, she will also be a part of the World Designers Conclave to be held in Goa on July 1, 2023. The event will provide Priya with an excellent opportunity to share the stage with other celebrity designers, artists, and celebrities. Being a part of it, she is going to set another milestone in her career.
Links:
https://instagram.com/priya.b?igshid=YmMyMTA2M2Y=
https://instagram.com/swastikweavers_designer?igshid=YmMyMTA2M2Y=