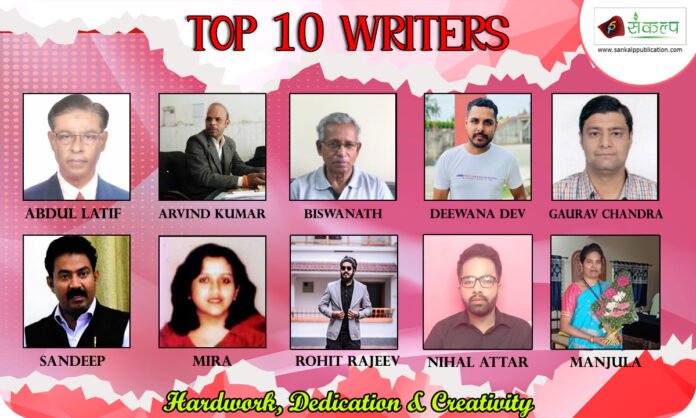 Herbal Cosmeto-Dermatology by Abdul Latif
Herbal cosmeto-dermatology is needed today because herbal remedies are safer for the skin than allopathic or synthetic drugs. This book is predicated on Unani Medicine, Eastern Medicine, Ayurveda, Integrative Medicine, CAM, Alternative Medicine, Uyghur Medicine, Botanicals & Herbal Medicine. This book of Herbal Cosmeto-Dermatology having 30 chapters described the history of beautification through cosmetics in the first chapter. It is rightly mentioned about Leucoderma /Vitiligo that Ibn Sina was the first person who declared the skin disease as hereditary. Earlier, this Unani heritage was unheard of! Present medical science also accepts that Lecoderma/Vitiligo is hereditary. Besides the first chapter concerning history, 13 other chapters have been written by Prof. Abdul Latif, and in two of them, he is a contributory author. The remaining chapters in the book are the works of other experts' compilations.
Main Nirbhaya Hun by Arvind Kumar Srivastava
Rape history, law and pain, this book is a compilation of those rapes in the country, which were given a lot of space by the media and which forced the government to change the law.
My Long Journey With Tata Motors by Biswanath Bhattacharjee
A sort of Autobiography of a person attached with a Tata group of company for four decades, his feelings, views, sweet & bitter memories, learnings and achievements with lot of funny stories. It also talks about the work culture & relations between employee & employer, some thing new for the present generation.
Mera Ishq Ya Zid by DEEWANA DEV
Shall I say something…… If I say something about this book, it will probably be very difficult for me to know where to start. The fact is that for the last long time I was writing something or the other little by little. Few people used to read or listen, some of them critics, some fans. While on the one hand some would get excited by the praise of the fans, on the other hand one would have to be humiliated by the critics and somewhere in the heart the inferiority complex would also settle. But it was true, in this way neither I was able to estimate my work nor I was able to improve myself, it would have been better if some of these critics would have played the role of my mentor or guide as well. Get a chance to remove the shortcomings of your pen. Thought of presenting this book to encourage myself and become better. Even after improving a lot, there will be many shortcomings, because in the opinion of many people, it can be just a world of imaginary words. But I think whatever has been written in this book, whatever you will read or feel, has mostly come from the real aspects of life. In this effort of mine, I refute the notion, which I hear from most people, that any kind of poetry or prose comes from that part of life which is lived in sadness, in joy, sorrow, sadness, enthusiasm, Some real and some imaginary depictions of despair, love, society, family and many other situations can be seen. Presenting my first attempt in front of you with the hope of something better.
A Comprehensive Textbook of Complete Dentures by Dr. (Prof.) Gaurav Chandra, Dr.(Prof.) Shaleen Chandra, Dr. Swatee Agarwal
(1) Prosthodontics enjoys the honor of being the largest and probably the oldest discipline in the whole of dentistry. The technical importance of the subject may be understood by the fact that it is the only subject in the dental professional curriculum that is taught at the undergraduate (BDS) level from I year to the final year of the curriculum with maximum number of teaching hours devoted to it.The teeth are being extracted and being replaced by artificial teeth since a very long time. This may be some or all of the teeth. The complete dentures form one of the most important fields of Prosthodontics as this deals with majorly the restoration of the function of the patient.Thus a successful Prosthodontic treatment is a boon especially to the elderly section of our society which usually gets cutoff from the main stream of the social structure owing to their physical weakness and mental frustration which creates a vicious circle in the minds of these gentle people. Once restored to proper health and good oral functions, a tremendous boost of confidence is appreciated in such patients as they begin to re-enjoy their life and in a sense begin to re-live it. It basically covers all of the associated aspects of complete dentures also giving an insight into the Prosthodontic viewpoint of the maxillofacial prosthetics and the implant dentistry, hence encompassing the major part of complete dentures and to that the latest trends.
Application of Yoga by Dr. Sandeep Jagannath Jagtap
Application of "Yoga" for B.Voc. in Sports, Physical Education and Fitness. This book has been written according to the new revised syllabus of Dr. Babasaheb Ambedkar Marathwada University, Aurangabad. We have attempted to make this book informative, simple and lucid. Images and figures were indicated at appropriate stage. Question pertaining to the chapters are given at the end of the chapter according to questions bank of Dr. Babasaheb Ambedkar Marathwada University. We hope that interest of the teachers and students will generate after understanding the subject through the book.
Diet In Motherhood Through The Eyes Of A Nutritionist – DIETICIAN by Dt. J. Mira and Dr. Ravi Sharma
You Are Pregnant Now. Wow!! This Feeling Itself Would Have Made You Feel Exhilarated, That All Your Life Time Dream Has Come True By The Grace Of God, Where Our Book," Diet Through The Eyes Of A Nutritionist- Dietician" Written Exclusively Keeping In Mind You And Your Most Gifted Angel Of God, If You Consult Would Be Like Adding A Golden Feather To A Royal Cap. In Today's Busy Lifestyle, Where Both The Spouses Are Going Outside For Job, And Most Of The Offices Grant Maternity Leave Mainly After Delivery, Pregnant Mothers Hardly Find Time To Read A Detail Book On What To Eat During Motherhood.Therefore Such A Combo Of Valuable Know- How By A Clinically Well Experienced Diet Specialist And A Highly Knowledgeable Ayurvedic Physician's Input On What Food To Practically Consume During This Vital Phase, Along With A Detail Information About Each Nutrient And Its Overall Impact On The Health Of Both The Mother And Her Growing Child Is The Need Of The Hour, Which This Book Is More Than Hundred Percent Sure To Offer. Hence, "A Nutritious Balanced Wholesome Diet" Is The Key Secret X Factor To Bring In A Positive Pregnancy Outcome Of An Expectant Mother And A Big Contented Smile In The Couple's Life. Therefore To Reshape You And Your Angel's Life Beautifully And To Achieve Happiness, Health, Wellness And Prosperity, By Knowing The Importance Of Each And Every Nutrient Needed During This Golden Period And Its Food Sources And The Ways To Incorporate These During Each Trimester Are Explained Very Vividly In An Attractive , Colourful Mind Catching Manner. We Are Pretty Sure, That Our Book Will Really Be A Handy Kit, Which You Will Cherish And Will Be One Of Your Most Wanted Daily Refer For Your Day To Day Meal Plan, As A Thorough Balanced Nutritious Diet Plan Has Been Provided Keeping In Mind All The Vital Nutrients Which You And Your Growing Baby Need To Consume During This Happy Journey Of Your Motherhood.
The Rise of an Awakened Entrepreneur by Rohit Rajeev
What is your true reality ? Knowing about the true reality through your conscious mind is the most blissfull experience one can ever experince In thier lifetime. As an entrepreneur you need keep your mind peaceful all the time as your business venture totally runs purely on mindset.
Ideal Order management systems for Manufacturing Industry by Nihal Najamuddeen Attar
My self Nihal Najamuddeen Attar. I am a business coach & director of the " Business success mantra " consultancy firm that helps business owners to run their businesses in autopilot mode, operations cost reduction, business operations automation, making sales & marketing strategies, and business owners' minds mastery. I am completed B.E in chemicals, MBA in Operations & projects, PG Diploma in Marketing Management, a Lean Six Sigma black belt, Certify quality manager, Certify IMS internal auditor, completed diploma in business autopiloting, and business growth mastery, Mind mastery, Business operations automation. More than nine years of work experience with Sudarshan chemicals, Deepak nitrite Ltd, Rishabh Metals Pvt Ltd, Meghmani dyes Industries Ltd, etc companies in the operation & business excellence team. I am also writing two books first is " How to live happy & successful life " & second is " Lean manufacturing tools & techniques "
Modern Management Techniques By Dr. Manjula A Soudatti
This is a very good experience my self, I have referred various books on this subject written by eminent authors. I hope and I am confident that this book will be very useful to the students and learned teachers of this subject.