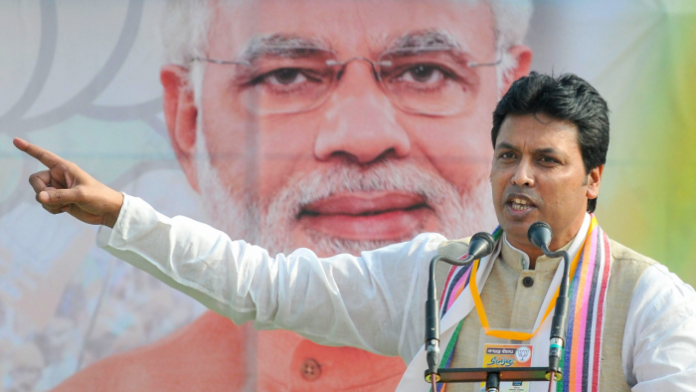 According to Biplab Kumar Deb, the Bharatiya Janata Party would take 40–45 seats in the upcoming 60-member state assembly election. He further stated that the Bharatiya Janata Party won 36 seats, and its alliance, the Indigenous People's Front of Tripura, won eight assembly seats in the 2018 elections.
Biplab Kumar Deb, the Rajya Sabha member of parliament said in a news report that the electoral scenario of the state stays the same since the party has put a lot of effort into everyone's growth.
According to him, the saffron Party in the state would never get below 36 seats under any circumstances, and voters are aware that only the Bharatiya Janata Party can improve the economical and cultural situation of the state.
He said the party will compete in the important election under the guidance of Prime Minister Narendra Modi who will start his campaign on December 26.
Everyone in the Bharatiya Janata Party needs to agree with the Party's decision whatever the decision they will take, when he was asked to leave the chief minister post by the party, he did. After that, he was elected to the Rajya Sabha which give him a significant platform to speak for the needs of the citizens.
He also expressed his gratitude to prime minister Narendra Modi for letting him speak about several significant problems during the last Rajya Sabha session. Over the 13 working days, he was able to bring up several Tripura-related problems in the Rajya Sabha, The prime minister deserves all the praise of the people for the overall development of the country and its people.