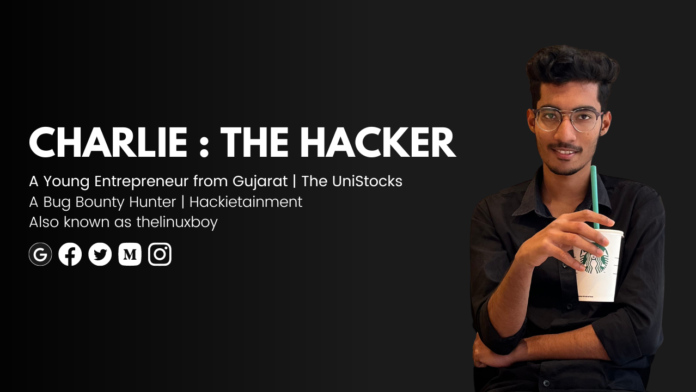 Rajiv popularly known as "Charlie : The Hacker" is a young entrepreneur from Gujarat who has been making waves in the fintech industry with his innovative startup, The Unistocks. With a keen interest in technology and finance, Charlie has been able to create a unique platform that aims to provide quality financial education to everyone, irrespective of their background or financial status.
Charlie's journey began when he was just 17 years old and had just started trading in the stock market. Despite being passionate about finance, he struggled to understand the complexities of the market and found it challenging to access reliable sources of financial education. This struggle led him to start The Unistocks, an online education platform that provides easy-to-understand financial concepts and practical tips for trading and investing in the stock market.
The Unistocks is not just a regular financial education platform. It is a one-stop-shop that provides everything that an aspiring trader or investor needs to get started, from beginner-level courses to advanced-level strategies. The platform provides a wide range of resources, including video tutorials, live trading sessions, and interactive quizzes, to help users develop their skills and stay up-to-date with the latest trends and techniques in the market.
One of the unique features of The Unistocks is its focus on democratizing financial education. Unlike traditional financial education programs that are often expensive and exclusive, Unistocks aims to make financial education accessible to everyone. The platform is affordable to use and provides users with all the tools and resources they need to learn and improve their trading and investing skills.
Another aspect that sets The Unistocks apart from other fintech startups is its focus on community building. Charlie believes that a strong community of traders and investors is essential for success in the stock market. To that end, The Unistocks provides a platform for users to connect with each other, share their experiences and knowledge, and learn from each other.
Charlie's passion and dedication to providing quality financial education have not gone unnoticed. He has been featured in various publications, including YourStory, DailyHunt, Medium, Borok News, etc.
Little more introduction of Charlie : The Hacker
Rajiv, also known as "Charlie: The Hacker", is a young Indian cyber security researcher, influencer, author, and stock trader. He has gained a reputation for his work in the cyber security community from a young age, earning the nickname "Charlie : The Hacker". However, in the real world, he goes by Rajiv. Charlie is a true collaborator, working with different communities to foster growth and development for both himself and those around him. He has a strong presence on social media, with over 100k+ followers across all platforms.
Overall, Charlie Rajiv is a multi-talented individual who has made significant contributions to both the cyber security and stock trading industries. His dedication and passion for his work have earned him a well-deserved reputation as a trailblazer and innovator, and he continues to inspire and motivate others in the field.
In conclusion, Charlie : The Hacker's story is a testament to the power of innovation and perseverance. Through his passion for finance, cyber security and technology, he has been able to create a platform or community that is changing the way people approach financial education. With The Unistocks, Charlie is not just creating a business but also making a significant impact on people's lives by providing them with the tools and resources to achieve financial independence.
Links:
https://instagram.com/thelinuxboy
https://instagram.com/theunistocks
https://www.linkedin.com/in/charliethehacker
https://twitter.com/charliethehack1