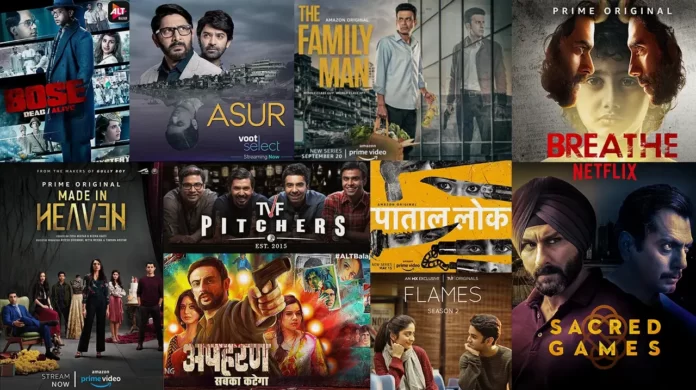 Introduction:
With the surge in digital platforms, Indian web series have gained immense popularity for their compelling storytelling, diverse genres, and high production values. From gripping thrillers to heartwarming dramas and hilarious comedies, the Indian web series landscape offers something for every viewer. In this article, we present a curated list of the top 10 Indian web series that are worth watching for their engaging narratives, talented actors, and excellent execution.
"Sacred Games":
Based on Vikram Chandra's critically acclaimed novel, "Sacred Games" has revolutionized the Indian web series scene. This crime thriller, directed by Anurag Kashyap and Vikramaditya Motwane, boasts stellar performances by Saif Ali Khan and Nawazuddin Siddiqui, making it an absolute must-watch.
"Mirzapur":
Set in the crime-ridden city of Mirzapur, this action-packed series explores the power struggles among mafia families. With an ensemble cast including Pankaj Tripathi and Ali Fazal, "Mirzapur" combines intense drama, dark humor, and gritty storytelling to deliver a captivating experience.
"Scam 1992: The Harshad Mehta Story":
Based on real events, this SonyLIV series chronicles the rise and fall of stockbroker Harshad Mehta. Pratik Gandhi's outstanding performance, coupled with a gripping narrative, makes "Scam 1992" a must-watch for those intrigued by financial scandals and white-collar crimes.
"Paatal Lok":
Produced by Anushka Sharma, "Paatal Lok" is a thought-provoking crime thriller that delves into the dark underbelly of society. The series masterfully weaves together complex characters, social commentary, and suspenseful storytelling, leaving viewers engrossed till the very end.
"Delhi Crime":
Based on the infamous 2012 Delhi gang rape case, this Netflix series sheds light on the tireless efforts of the Delhi Police to bring the perpetrators to justice. With a powerful performance by Shefali Shah and a realistic portrayal of the events, "Delhi Crime" is a hard-hitting and emotionally charged series.
"The Family Man":
Starring Manoj Bajpayee in the lead role, "The Family Man" follows the life of a middle-class man who works as a spy for a special intelligence unit. Balancing family responsibilities and national security, this series effortlessly combines action, comedy, and drama, making it a binge-worthy watch.
"Made in Heaven":
This Amazon Prime Video series explores the glitz and glamour behind big Indian weddings while delving into the societal issues and complexities surrounding them. With a talented ensemble cast and visually stunning production, "Made in Heaven" offers a nuanced and captivating narrative.
"Asur":
A unique blend of mythology and crime thriller, "Asur" takes viewers on a thrilling journey as two forensic experts chase down a serial killer inspired by ancient Indian scriptures. This Voot Select series stands out for its intriguing plot, top-notch performances, and a riveting exploration of human psyche.
"Criminal Justice":
Remake of the popular British series, "Criminal Justice" follows the life of Aditya, a young man accused of murder. With impeccable performances by Vikrant Massey, Pankaj Tripathi, and Jackie Shroff, this Hotstar series keeps viewers on the edge of their seats with its suspenseful narrative.
"Gullak":
"Gullak" is a heartwarming slice-of-life series that revolves around the Mishra family and their everyday struggles, joys, and idiosyncrasies. With its relatable characters and humorous storytelling, this TVF Play series beautifully captures the essence of middle-class life and family dynamics.
The Indian web series landscape has witnessed a remarkable surge in quality content, offering viewers a diverse range of genres and narratives. From gripping crime dramas to thought-provoking social commentaries and heartwarming family tales, the top 10 Indian web series mentioned above represent the epitome of engaging and quality entertainment. So, grab your popcorn, sit back, and immerse yourself in these captivating stories that showcase the best of Indian web series.