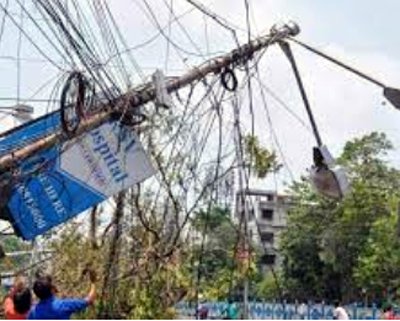 A heart-wrenching incident unfolded in the Uttar Taibandal area of Sonamura subdivision, as Madan Murasingh, a destitute day labourer, met a tragic end by electrocution. The incident occurred yesterday under the jurisdiction of the Melaghar police station.
Sources from the police department revealed that Madan Murasingh had embarked on a routine trip to the market to purchase household essentials around 10:00 AM. Tragedy struck during his return journey at approximately 10:30 AM. While carrying a bag laden with goods, he accidentally stepped onto a live electric wire that was strewn beside the road. The powerful electric shock claimed his life instantly.
The lifeless body of Madan Murasingh remained unnoticed for a significant duration, lying motionless on the rain-soaked ground, as the day's downpour had confined local residents to their homes. Eventually, fellow community members ventured outside and discovered the grim scene. Without delay, they rushed him to the Melaghar hospital for medical attention.
Regrettably, the medical professionals on duty at the hospital could only confirm the tragic outcome, pronouncing Madan Murasingh as 'brought dead.' The entire Uttar Taibandal area has been shrouded in an atmosphere of sorrow and lamentation following this heartrending incident.
The untimely demise of Madan Murasingh has not only robbed the community of a diligent day labourer but has also served as a stark reminder of the dangers that can lie in seemingly ordinary circumstances. The incident stands as a somber cautionary tale, prompting renewed awareness about electrical safety and the need for vigilance in everyday life.