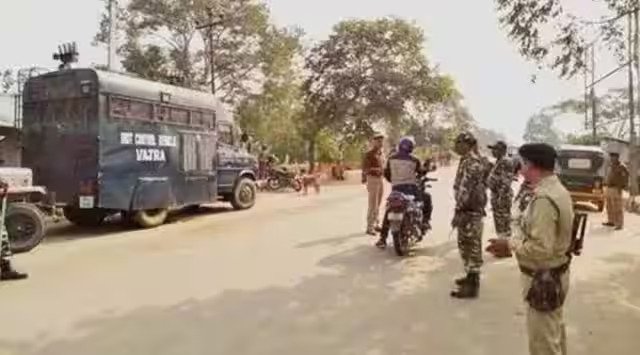 At least five individuals, including two police officers, sustained injuries in an acid attack on a police vehicle transporting three suspects accused of assaulting a tea garden worker in Simna, located in the West Tripura district of Tripura. The incident occurred just 40 kilometers away from Agartala on Monday.
Assistant Inspector-General Jyotishman Das Chowdhury revealed that Santanu Goala and Suraj Bauri, both hailing from the Simna tea estate, were apprehended by local residents on suspicion of involvement in rubber theft on Sunday. Subsequently, a third individual, Chandan Debnath, was also detained under suspicion of collaboration with them.
Upon receiving the information, the police intervened, rescued the trio, and took them to the local police station, where they were subsequently released on Monday morning. However, a group of estate residents reached Debnath's rubber shop at Simna market and reportedly assaulted Prantosh Das, Subir Das, and Kajal Das, who reside in the vicinity.
According to the police account, a physical altercation ensued when they tried to intervene, during which an unidentified individual hurled a bottle of acid into the fray.
Contrary to the police version, locals claimed that an individual from the tea estate had been assaulted by some individuals at the Simna market on suspicion of theft the previous day. Allegedly, a group from the estate targeted the homes of Subir Das, Prantosh Das, and Kajal Das on Monday, accusing them of complicity in the earlier assault.
While the police managed to rescue the detained trio, their transport vehicle was attacked as it halted at the Simna market, resulting in an acid bottle being thrown at it.
One of the individuals being transported in the police vehicle contested the police account, stating, "I was in the market when people were assaulting a thief yesterday. I did not partake in the assault. His supporters came to the Simna tea estate and attacked all of us, including my pregnant wife. The police arrived and took the three of us into their car. The vehicle was stopped at the Simna market by around 150 people. Someone threw an acid bottle at the vehicle, and we sustained injuries."
A statement from a Special Police Officer to the press revealed that four police officers were present in the vehicle. He noted, "Some individuals obstructed the vehicle at the Simna market and threw acid inside. We were informed of a scuffle involving these individuals yesterday. Our officers came under attack while transporting them."
The investigation into the acid attack and the preceding incidents is ongoing as authorities seek to establish a comprehensive understanding of the events that transpired.