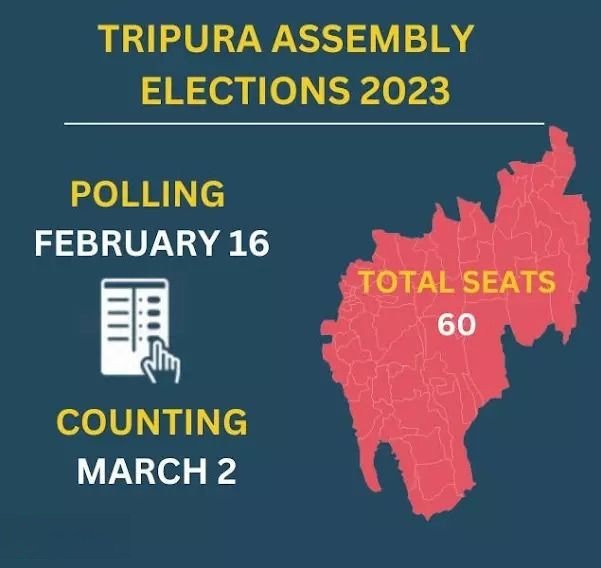 The much-awaited results of the Tripura Assembly Election 2023 are set to be announced on 2nd March. The state has been abuzz with activity for the past few months, with political parties and candidates campaigning vigorously to win the hearts and minds of the voters. As the counting day approaches, the excitement and anticipation among the people are palpable.
The main players in the Tripura Assembly Election 2023 are the Bharatiya Janata Party (BJP), Indian National Congress (INC), Communist Party of India (Marxist) [CPI(M)], and Tipra Motha Party. While the BJP is the ruling party in the state, the opposition parties have been putting up a tough fight to unseat them.
According to political analysts, the BJP is likely to retain power in the state, but with a reduced majority. The party won 36 seats in the 2018 assembly elections, but this time, they are expected to win Lesser than the previous seat. The Congress, which had failed to win even a single seat in the last elections, is expected to make a comeback this time. The party is likely to win a few seats, which would be a significant improvement from their previous performance.
The CPI(M), which had ruled the state for over two decades before being ousted by the BJP in 2018, is expected to win significant seats. The party had won 16 seats in the last elections but has since suffered a decline in popularity. The IPFT, which is a regional party that had formed an alliance with the BJP in the last elections, is expected to win but they hardly have 5 seat distribution, now only time will tell.
Tipra Motha Party, on the other hand, is a newly formed party that has created a buzz in the entire state on this election and is expecting to win a majority of the ST Seats, and a few on other seats too.
As the election results draw near, the political parties are making last-minute efforts to sway the voters in their favor. The BJP has been highlighting its achievements in the state, such as the construction of roads, the implementation of the Ayushman Bharat scheme, and the provision of jobs. The opposition parties, on the other hand, have been criticizing the BJP's handling of the COVID-19 pandemic, the rising unemployment rate, and the alleged corruption in the government.
The Tripura Assembly Election 2023 is crucial for all the parties involved, as it will determine the future course of the state's politics. As the people of Tripura await the results with bated breath, the fate of the parties and their candidates hangs in the balance.