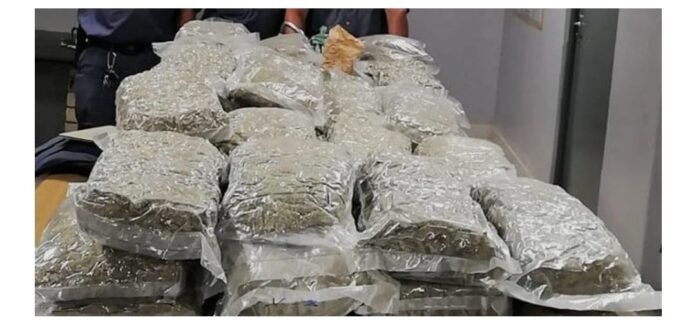 Agartala: In a late-night operation conducted based on a valuable tip-off, the Tripura Police successfully apprehended two individuals and seized a significant quantity of dry cannabis weighing a total of 52 kilograms. The operation, carried out in the Bhagalpur area, marks a major victory in the ongoing fight against illegal drug activities in the region.
Acting swiftly on the provided information, a team of law enforcement officials from Tripura Police's Narcotics Control Bureau launched the operation to intercept the suspected drug traffickers. The targeted raid resulted in the apprehension of two individuals who were allegedly involved in the illicit cannabis trade.
Upon thorough inspection of the suspects' premises, the police discovered a substantial stash of dry cannabis carefully concealed within their hideout. The seized quantity, weighing an estimated 52 kilograms, holds significant street value and represents a significant blow to the drug trafficking network in Tripura.
The successful operation underscores the effectiveness of proactive intelligence-gathering efforts and the commitment of law enforcement agencies to combating drug-related crimes. The tip-off leading to the operation serves as a testament to the growing trust and cooperation between the public and authorities in Tripura's fight against illegal substances.
Speaking on the achievement, Superintendent of Police (SP) of Tripura Police's Narcotics Control Bureau expressed satisfaction with the outcome of the operation. The SP acknowledged the vital role played by the informants in providing accurate and actionable intelligence, which enabled the police to execute a swift and precise operation.
The seized cannabis, with an estimated street value of Rs 5 lakh, would have potentially caused immense harm to individuals and communities if it had reached the streets. The removal of such a substantial amount of drugs from circulation not only disrupts the illegal supply chain but also serves as a deterrent to others involved in drug trafficking activities.
The two arrested individuals are now in police custody and will face charges related to drug possession and trafficking. They will be presented before the court to face justice in accordance with the law.
The Tripura Police remain committed to their mission of curbing the drug trade in the state and will continue to work diligently to identify and dismantle criminal networks involved in the illicit drug business. The successful operation serves as a clear message that Tripura's law enforcement agencies are resolute in their efforts to create a safe and drug-free environment for its citizens.
The seizure of such a significant quantity of dry cannabis, along with the apprehension of the suspects, represents a significant step forward in the fight against drug-related crimes in Tripura. The public and law enforcement agencies stand united in their determination to eliminate the menace of illicit drugs and ensure a secure future for the state's residents.