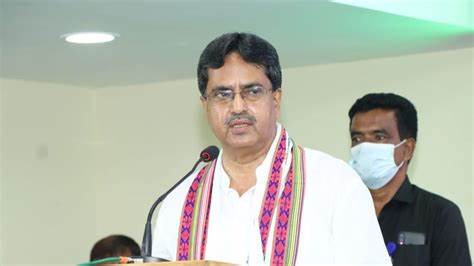 The Chief Minister of Tripura, Dr. Manik Saha, reaffirmed his commitment to the overall development of the state, despite the obstacles faced by his BJP-IPFT government. In a recent statement, he stressed the government's zero-tolerance policy towards anti-social and immoral activities, particularly extortion and mafiaraj, which threaten the state's progress.
To combat these crimes, the state government has tasked the Crime Branch with creating a specialized police task force. Dr. Saha reiterated this message while attending a blood donation camp organized by the Government Employees Federation in the capital city, emphasizing the importance of upholding the rule of law.
Despite repeated calls for an end to extortion, attacks on opposition party homes, and political terrorism, some party members and leaders have failed to comply. In response, the Chief Minister announced stricter measures, including the formation of the STF, to establish and maintain the rule of law.
Dr. Saha's commitment to the state's development and his government's efforts to combat crime and corruption demonstrate their determination to create a safer and more prosperous Tripura for all its citizens.