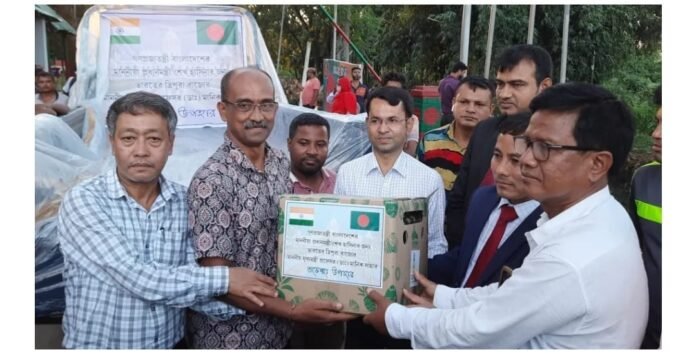 In a heartwarming gesture aimed at strengthening bilateral ties, the Chief Minister of Tripura, Dr. Manik Saha, recently sent a gift of nearly 1000 kilograms of pineapples to the Prime Minister of Bangladesh. This act of goodwill highlights the significance of cultural exchange and friendship between the neighboring regions.
Tripura, a state located in northeastern India, is renowned for its succulent and flavorful pineapples. The gift not only showcases the state's rich agricultural produce but also serves as a symbol of warmth and friendship between the two nations.
The exchange of gifts between leaders of neighboring countries is a customary practice that promotes diplomatic relations and fosters mutual understanding. By presenting this generous gift, Chief Minister Dr. Manik Saha aims to further strengthen the bond between Tripura and Bangladesh, contributing to the overall growth and development of both regions.
Pineapples, known for their sweet taste and distinct aroma, hold a special place in Tripura's agricultural landscape. The state's farmers have dedicatedly cultivated these fruits, resulting in high-quality produce that has gained recognition both domestically and internationally.
The gesture not only acknowledges Tripura's expertise in pineapple cultivation but also highlights the potential for trade and cooperation in the agricultural sector between Tripura and Bangladesh. This exchange paves the way for exploring avenues of collaboration, sharing best practices, and fostering economic growth in both regions.
The gift of pineapples is a representation of the vibrant and harmonious relationship between Tripura and Bangladesh. It signifies the desire for closer ties, mutual respect, and cultural affinity. Such acts of goodwill contribute to the overall development of bilateral relations and create opportunities for collaboration in various domains, including trade, tourism, and cultural exchange.
The warm reception of the pineapples by the Prime Minister of Bangladesh further underscores the significance of this gesture. It reflects the shared values and aspirations of the people of both regions and opens doors for deeper engagement and cooperation in the future.
As the pineapples from Tripura find their way to the tables of Bangladesh, they serve as a reminder of the rich agricultural heritage and the potential for growth that lies within the two regions. The gift stands as a testament to the enduring friendship between Tripura and Bangladesh and sets the stage for further endeavors aimed at promoting prosperity and well-being for both nations.