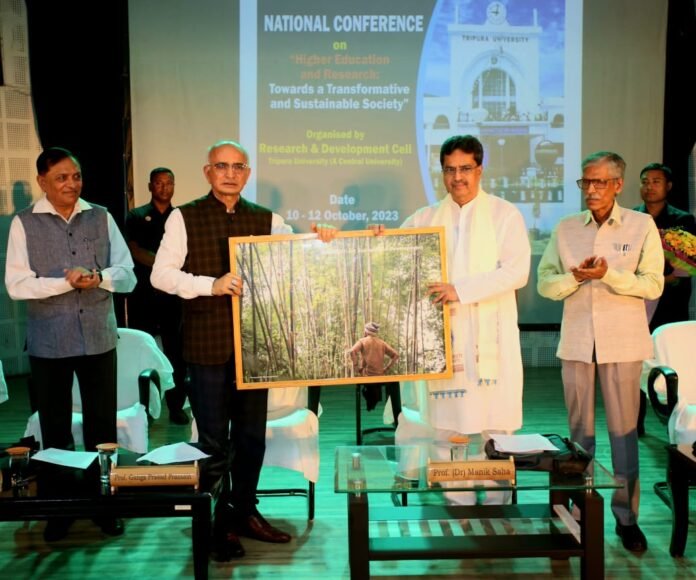 The Hon'ble Chief Minister of Tripura, Dr. Manik Saha, inaugurated the three-day National Conference on 'Higher Education and Research: Towards a Transformative and Sustainable Society'. The event, organized by the Research & Development Cell of Tripura University, commenced at the illustrious Maharaja Bir Bikram Auditorium.
The conference serves as a crucial platform for scholars, educators, and researchers to converge, exchange ideas, and deliberate on strategies to elevate the standards of higher education and research in the region. The theme, 'Towards a Transformative and Sustainable Society', underscores the pivotal role that education and research play in driving positive societal change.
Dr. Manik Saha, in his inaugural address, emphasized the importance of fostering a robust academic environment that nurtures innovation and critical thinking. He stressed that a strong foundation in higher education and research is imperative for achieving sustainable growth and development.
The Chief Minister commended the efforts of Tripura University's Research & Development Cell in organizing the conference, acknowledging their dedication to advancing the academic landscape of the state. He further expressed his optimism for the insights and recommendations that would emerge from the conference to shape the future of education and research in Tripura.
Distinguished speakers and experts from various fields are slated to share their knowledge and expertise over the course of the three-day event. The conference promises to be a dynamic platform for collaborative discussions, paving the way for transformative initiatives in higher education and research for a more sustainable and prosperous society.