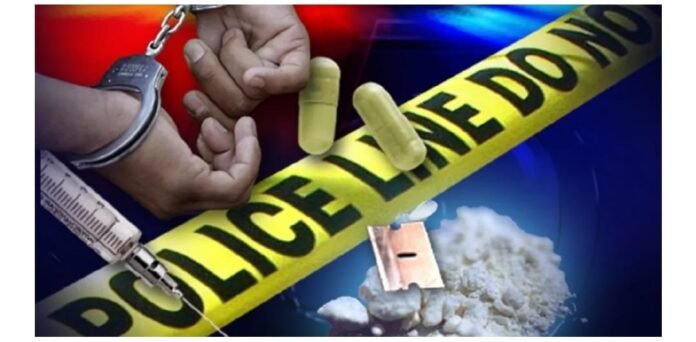 Agartala: In a significant development in the fight against drug trafficking, the Tripura Police have successfully recovered and seized ganja (cannabis) with an estimated value of Rs 37 lakh. The operation, which took place in [location], led to the arrest of an individual involved in the illicit drug trade.
Acting on credible intelligence, a specialized team from the Tripura Police conducted a meticulously planned operation to apprehend the culprits involved in the illegal ganja trade. The operation resulted in the seizure of a substantial quantity of ganja, which is known for its recreational and illicit use.
The seized ganja, with a street value of approximately Rs 37 lakh, is a significant blow to the illicit drug market in the region. The authorities have been striving to curb the menace of drug trafficking, which poses serious health and social risks to the community.
The arrest made during the operation marks a breakthrough in the investigation, as the individual apprehended is believed to have played a crucial role in the distribution network of the illegal drug trade. The accused will face charges related to possession and trafficking of narcotics, with legal proceedings to be initiated in due course.
The Tripura Police have been proactive in their efforts to crack down on drug-related activities, recognizing the detrimental impact they have on society, particularly among the youth. The successful seizure of the ganja worth Rs 37 lakh is a testament to their unwavering commitment to upholding law and order and ensuring the well-being of the citizens.
Authorities have urged the public to remain vigilant and report any suspicious activities related to drug trafficking to assist in combating this persistent issue. Additionally, efforts are being made to raise awareness about the harmful effects of drug abuse and the importance of community participation in eradicating the drug menace.
The seizure of ganja worth Rs 37 lakh and the subsequent arrest send a strong message to those involved in the illicit drug trade, reinforcing the determination of law enforcement agencies to crack down on such activities. The Tripura Police, with the support of the community, will continue their relentless pursuit to make the state a safer place for all its residents.
This successful operation highlights the ongoing battle against drug trafficking and the commitment of the Tripura Police to protect the well-being and future of the state's inhabitants.