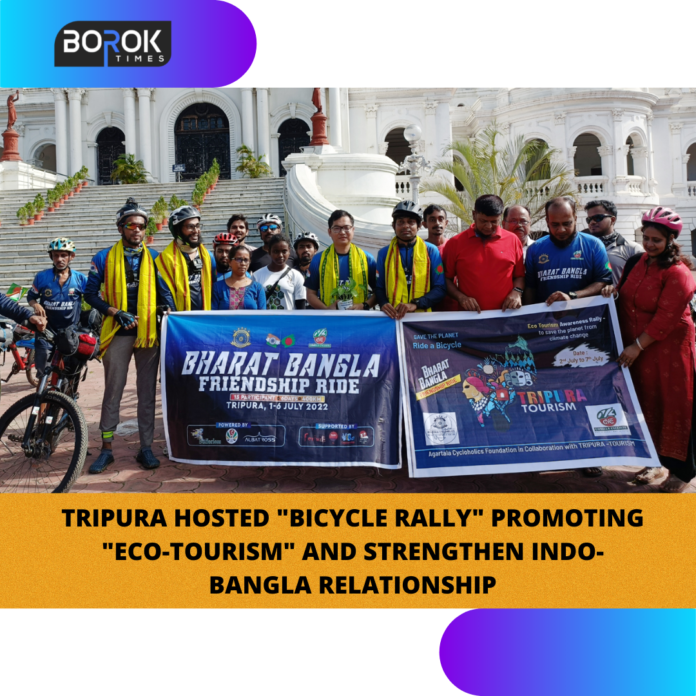 The 'Bicycle Rally' is a collaboration between India & Bangladesh to visit various tourist spots across the northeastern state via bicycle.
Aiming to strengthen the India-Bangladesh relationship and promote the tranquil surroundings, crystalline waterfalls, breathtaking mountains, lush woodlands, incredible history and rich cultural legacy of Tripura.
Agartala Cycloholics Foundation in collaboration with Department of Tourism, Government of Tripura today hosted a 'Bicycle Rally', to promote 'Eco-Tourism' and raise awareness on preserving the planet and mitigating climate changes.
Tarit Kanti Chakma, Director of the Tourism department welcomed the cyclists from Commilla in Bangladesh here in Agartala.

Tripura Tourism Director said "By this rally, we intended to highlight that cycling is a part of our life because of the recent urbanization and all. Through cycling, it will create a good impact on our lifestyle as well as become a global and carbon footprint for humanity also. The rally is strictly following Carbon footprint and health issues. Almost every day, many people from Bangladesh are coming. Those who came in the last few days, also participated in this cycling. The riders had come from Commilla of Bangladesh".