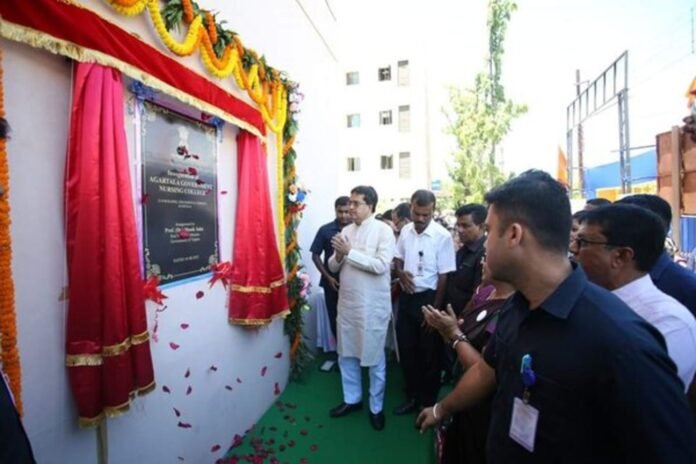 A momentous occasion unfolded as Tripura's first Government Nursing College commenced its journey. The college, situated in a G+8 building of the IGM Hospital in Agartala, boasts modern infrastructure to provide aspiring nurses with state-of-the-art education and training.
The inauguration ceremony, attended by health officials and dignitaries, was graced by Chief Minister Dr. Manik Saha, who emphasized the significance of this milestone in fulfilling the aspirations of the state's youth in the field of nursing. With this nursing institution now operational, aspiring nurses in Tripura can look forward to pursuing their dreams within the state's boundaries.
Chief Minister Dr. Saha revealed that the college would introduce the B.Sc. nursing course from the current academic year. This step is hailed as a major stride in medical education, allowing students to pursue B.Sc. nursing from a government institute within the state. The initiative aims to bolster the availability of skilled healthcare professionals and enhance the quality of medical services in Tripura.
The college's development has been marked by the incorporation of advanced technology, including smart classrooms, well-equipped hostels, and other modern facilities. These cutting-edge amenities are designed to provide a conducive learning environment and ensure that students receive comprehensive training in nursing practices.
Following the inauguration ceremony, Chief Minister Dr. Saha, along with Health Secretary Dr. Debashis Basu, conducted a thorough inspection of various facilities within the institution. The scrutiny encompassed the laboratory, library, and other key areas, with an emphasis on ensuring that the college is well-equipped to nurture competent and compassionate nursing professionals.
This landmark establishment marks a crucial step towards strengthening the healthcare sector in Tripura. By providing aspiring nurses with access to quality education and training, the government seeks to address the growing demand for skilled healthcare professionals in the state. The college's commitment to incorporating modern technology and facilities further underscores its dedication to providing the best possible learning experience for its students.
As the first Government Nursing College in Tripura embarks on its journey, it holds the promise of transforming the healthcare landscape by nurturing a new generation of proficient and empathetic nurses. The government's commitment to investing in medical education bodes well for the future of healthcare in the state, where skilled nursing professionals will play a pivotal role in promoting well-being and saving lives.
In conclusion, the inauguration of Tripura's first Government Nursing College signifies a significant milestone in the state's efforts to strengthen its healthcare infrastructure and develop a cadre of skilled nursing professionals. The college's focus on modern facilities, advanced technology, and quality education is a testament to the government's dedication to fostering excellence in nursing practices. With this new institution now operational, aspiring nurses in Tripura can look forward to a promising future, contributing their expertise to the welfare and well-being of the people of the state.