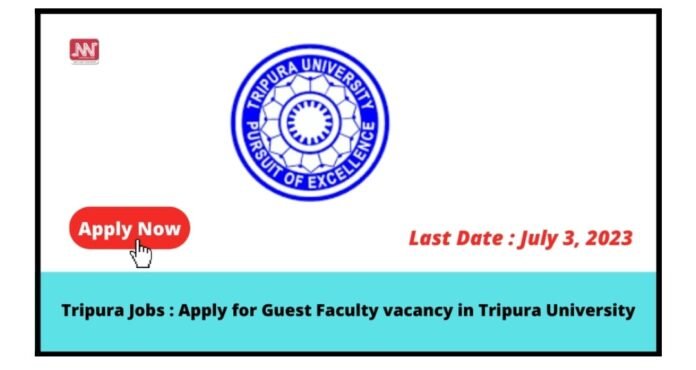 Introduction: Tripura University, a renowned educational institution nestled in the picturesque state of Tripura, has recently announced openings for various teaching positions. This exciting opportunity allows passionate educators to join the university's esteemed faculty and contribute to the growth and development of higher education in the region. Aspiring candidates with a dedication to teaching, research, and academic excellence are encouraged to apply and be a part of the vibrant academic community at Tripura University.
A Wide Array of Teaching Positions: Tripura University is inviting applications for multiple teaching positions across different departments. The vacancies span various disciplines, including Sciences, Humanities, Social Sciences, Engineering, and many more. This diverse range of opportunities ensures that individuals with expertise in different fields can find a suitable role to nurture their teaching careers.
Eligibility Criteria: To apply for these teaching positions, interested candidates must meet certain eligibility criteria. Applicants should possess the requisite educational qualifications, research experience, and expertise in their respective fields. The specific qualifications and requirements for each position can be found in the official notification released by Tripura University.
How to Apply: To kick-start the application process, aspiring candidates are advised to visit the official Tripura University website. The website provides comprehensive information about the vacancies, including the application form, detailed instructions, and guidelines. Prospective applicants must complete the application form accurately, ensuring all necessary information and supporting documents are included.
A Platform for Academic Excellence: Tripura University is widely recognized for its commitment to fostering a culture of academic excellence and research. The institution provides a conducive environment for intellectual growth, encouraging faculty members to engage in research and publications alongside their teaching responsibilities. Joining Tripura University offers educators the opportunity to collaborate with like-minded peers, access state-of-the-art facilities, and contribute to the knowledge base in their respective fields.
Selection Process: The selection process for teaching positions at Tripura University is rigorous and designed to identify candidates with exceptional academic potential. Shortlisted applicants will undergo evaluations that may include written examinations, interviews, and presentations. The university's selection committee meticulously assesses candidates based on their qualifications, teaching abilities, research accomplishments, and overall suitability for the position.
A Rewarding Career and Growth Opportunities: Joining Tripura University as a faculty member not only offers a fulfilling career but also provides ample opportunities for professional growth. The university encourages faculty members to participate in conferences, seminars, and workshops, both nationally and internationally. This exposure allows them to broaden their horizons, enhance their teaching methodologies, and stay abreast of the latest developments in their fields.
Conclusion: If you possess a passion for teaching, a commitment to research, and a desire to contribute to the academic landscape of Tripura, this is an excellent opportunity for you. Tripura University welcomes dedicated educators to become a part of its esteemed faculty, creating a dynamic learning environment for students and fostering a culture of academic excellence. Apply now and embark on a rewarding journey of teaching, research, and personal growth at Tripura University.