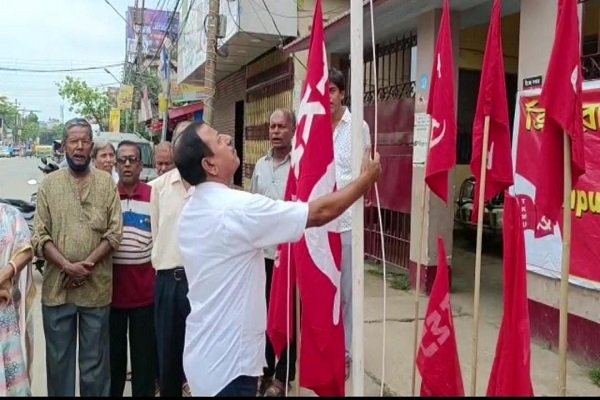 The 44th Foundation Day of Tripura Khet Majdoor Union was observed in the state with great dignity. The main event took place in front of the West District CPI-M Party office in the capital city, where Shyamal Dey, the state secretary of Tripura Khet Majdoor Union, hoisted the party flag.
Addressing the gathering, Shyamal Dey highlighted the significance of celebrating the foundation day every year. He emphasized that it serves as a reminder for people from all walks of life, including workers, farmers, and daily wage earners, to unite politically against the anti-people policies implemented by both the state and central governments.
Dey expressed concerns about the stagnant development of the state since the establishment of the BJP-led coalition government in Tripura. He stressed that the working class, farmers, and daily laborers have been the most adversely affected. Tripura Khet Majdoor Union has been tirelessly working towards the holistic betterment of the people, he added.
The formation of Tripura Khet Majdoor Union dates back to the first state conference held in Udaipur on May 19 and 20, 1980. Since its inception, the organization has been dedicated to politically mobilizing the rural peasantry, empowering them to voice their concerns and advocate for their rights.
As the 44th Foundation Day was celebrated, Tripura Khet Majdoor Union renewed its commitment to fight for the rights and welfare of workers in Tripura. The event served as a platform to raise awareness about the challenges faced by the working class and to encourage collective action for a better future.
With each passing year, Tripura Khet Majdoor Union continues to play a pivotal role in championing the cause of workers' rights and advocating for a fair and equitable society in Tripura.