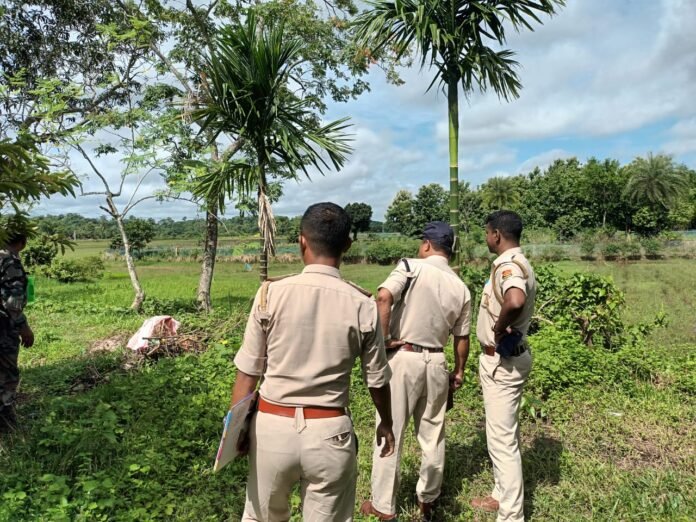 In a shocking and disturbing incident, two lifeless bodies were discovered on Friday in separate locations within the Kalyanpur area of Tripura. The first body was found in a rice field at Gobinda Chowdhury Kami, Kalyanpur. The victim has been identified as Biresh Kumar Debbarma. His hands and legs were bound, and he bore visible injuries, indicating signs of a brutal assault.
The second body was found in a pond at Adhonia, Kalyanpur, during the early hours of Friday morning. The deceased has been identified as Surjya Mohan Debbarma, who had been reported missing since the previous day. The circumstances surrounding his death remain unclear, and authorities are working diligently to determine the cause and bring the responsible parties to justice.
The local police have initiated a thorough investigation into these tragic incidents. Preliminary findings suggest the possibility of foul play in both cases. The police are collecting evidence, conducting interviews, and examining the crime scenes to shed light on the circumstances leading to these unfortunate deaths.
The discovery of these lifeless bodies has sent shockwaves through the community, leaving residents concerned for their safety. The incidents have sparked a sense of urgency among law enforcement agencies, who are working tirelessly to restore peace and security in the region.
The families and loved ones of Biresh Kumar Debbarma and Surjya Mohan Debbarma are devastated by the loss and are seeking answers about what transpired. As the investigation progresses, the authorities are urging anyone with information related to these incidents to come forward and assist in the search for the truth.
The state government has expressed its condolences to the bereaved families and assured them that all necessary measures will be taken to ensure justice is served. The local community is urged to remain vigilant and cooperate fully with the ongoing investigation.