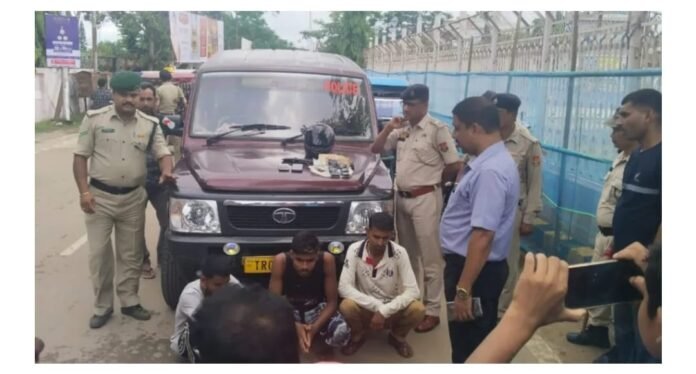 In an operation conducted by the Tripura police, three individuals involved in drug peddling were apprehended, and a significant quantity of illicit substances worth lakhs was seized from Kalibari Dighi in Dharmanagar, Agartala.
The successful operation, carried out by the authorities, resulted in the arrest of the three suspects involved in the illegal drug trade. Alongside their apprehension, a substantial haul of contraband items, valued at lakhs of rupees, was confiscated.
The seizure made by the police included 1,400 Yaba tablets, a highly addictive stimulant, and 6.5 grams of heroin, a potent narcotic substance. The recovery of such a substantial quantity of drugs reflects the gravity of the situation and the relentless efforts of the law enforcement agencies to combat drug trafficking in the region.
The operation not only serves as a significant blow to the drug peddling network but also reinforces the commitment of the Tripura police to ensuring public safety and maintaining law and order. The confiscated contraband will be utilized as evidence in legal proceedings against the arrested individuals, with the aim of securing their conviction and curbing the illicit drug trade.
This operation underscores the continuous vigilance of the Tripura police in tackling the menace of drug trafficking, safeguarding the well-being of the community, and sending a strong message that such criminal activities will not be tolerated.