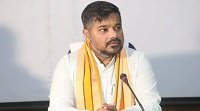 The state of Tripura has been actively promoting adventure tourism through various initiatives such as paramotoring, paragliding, hot air ballooning, rock climbing, rappelling, Burma Bridge, kayaking, zip line and water sports at popular locations such as Jampui Hill, Dumbur reservoir, and Chbimura. These efforts have been aimed at boosting tourism and highlighting the potential of the sector as an alternative source of economy for the state.
During a recent press conference, the tourism minister expressed satisfaction with the progress and success of the tourism department's programs. He also revealed that the state government is developing a comprehensive plan to promote tourism and position Tripura as a world-class tourist destination for international visitors.
To achieve this goal, the Department of Tourism has launched a multifaceted program that involves targeted marketing campaigns and promotional activities. The aim is to create awareness about the unique natural and cultural attractions of Tripura and to highlight the state's potential as a hub for adventure tourism.
The initiatives undertaken by the state government have already begun to yield positive results, with an increase in the number of tourists visiting the state. By leveraging the potential of the tourism sector, Tripura aims to not only boost its economy but also create employment opportunities for its people.