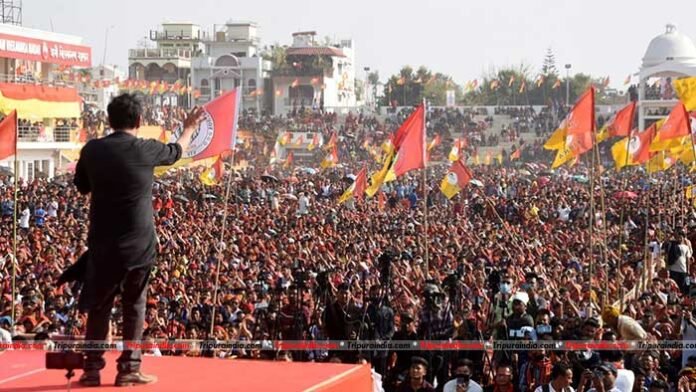 Claiming "No Compromise", Tripura's royal scion and TIPRA Motha chairman Pradyot Kishore Manikya Debbarman on Saturday reiterated the people of 'Tiprasa' community to remain united in carrying out the constitutional request of "Greater Tipraland" through "One Last Fight" in the next election of the assembly to be held at the beginning of next year.
TIPRA (Tipraha Indigenous Progressive Regional Alliance) Motha, a socio-political regional party in Tripura on Saturday organized a mass gathering at the premises of Swami Vivekananda Maidan also known as 'Astable' here in Agartala city. The major attraction of today's mass gathering event was Hamro Sikkim chief and former skipper of the Indian Football Team Bhaichung Bhutia.
Addressing the gathering on Saturday afternoon, TIPRA Motha chairman Pradyot, who is also known as 'Bubagra' (Maharaja in Kokborok dialect), said "In India, 'Azadi Ka Amrit Mahotsav' is being celebrated as part of 75 years of independence. But what have we received over the past 75 years of independence? We have no jobs, we have no Patta, we have no power of attribution, there are schools but no teachers, hospitals built and doctors came, but they have no medication. If any 'Tiprasa' needs to get treatment facilities, then he or she has to enjoy the benefit of lying on the floor. Or else, have to visit Vellore, Bangalore, Chennai, Delhi, and Kolkata for treatment. 75 years of independence and the so-called AKAM, what has been done, and what has happened to us? Why did we become so weak? Thousands of years have been ruled by the royal scions, and we have become poor, begging and demanding rights in our place. The reason is we have no 'Thansa', no unity. If there would have been unity, then the state would be yours, the system would be yours, but nothing is there."
"The BRU people resided at Kanchanpur for 23 years, what did they receive? Ministers, MLAs, and MPs visited, what did the 'Tiprasa' get? Many raised slogans of 'Chalo Paltai', and many said 'Chalo Ultai', the real thing is parties have changed, but the leaders are only, those who have been in CPIM's regime and are now in BJP's regime. Contractors changed their flags. The problem of Tiprasas won't be solved by changing the party. Today, this Bubagra is fighting for you people, I am fighting for a solution for the 10323 teachers spending my own money. I am trying, don't know whether they will get justice or not", he added.
Castigating the ruling party in Tripura, Bubagra said "The present leaders in power before the assembly election in 2018 committed to providing jobs, Rs 340 per day under MNREGA scheme, get jobs through miss call, Morcha told about State Council, etc. Did people get anything? In the CBSE script, 'Tiprasa' cannot write their language in the scripts, why do you people deny us our rights? We have not denied your rights. Today Mevar joined with us, Brishaketu and Dhananjoy were MLAs, you people couldn't do anything as power wasn't with you people, power was with the constitution and the constitution is not for the Tiprasa. Standing in Agartala city, I am saying I will die, but will not quit."
Claiming to be a witness to Thansa's leadership in the 2023 general elections, Pradyot said "There was once an allegation that Pradyot is against the Hindus. But the Manikya family has set up Tripura Sundari Temple, I worship 'Mandal Chandi Mata'. This family has given plots for the construction of Mission Church, set up mosques for the Muslim community, and Benuban Bihar for the Buddhist community. You people claim that Pradyot is communal. Till today, I never sought to vote seeing religion, tilak or beard, the politics of temples and mosques are being done by you people who are sitting with the state and country's power."
"Tiprasa knows how to provide, they don't know how to snatch. In the present day, when we demand greater tipraland and constitutional rights, the ruling party is asking to accept monetary offers, or become ministers or MP, not a demand for rights. What is the MP doing? We want 'Greater Tipraland'. We are not against anyone. We respect Rabindranath Tagore and Jagadish Chandra Bose. Here, people come from different religions. We never do politics based on religion, and will never do it in the future also. History is witnessed, when Motha formed the government in TTAADC, not a single Bengali family was attacked. This is the culture of Tiprasa, we don't love violence. Attacking and threatening people is cheap politics, we never indulge in such cheap politics", TIPRA Motha chairman told the gathering.
He also said "I am not a great person like Prime Minister Narendra Modi, who will come here and announce projects or schemes worth Rs 20,000 crore. I don't have that power. But I will say to all Tiprasa that go to the SDM office and file an application for 'Patta' land and for allotment. Achieving power in 2023, TIPRA Motha will provide allotment to all Tiprasa people. Bubagra cannot give you much, I don't have such a huge amount of money with me. But one thing, I love you, people, very much. Bubagra cannot cheat the souls of Maharaja Bir Bikram and Maharaja Kirit Bikram by selling the people of Tiprasa. I will die, but will never think of doing this with the 'Tiprasa' people."
Pradyot appealed to all 'Tiprasa' people that the ruling party may offer money to MDCs and leaders of Motha, If they want to betray the community, Tiprasa won't leave them alone. "This time, I will do 'One Last Fight' in the assembly election of 2023. Two months are left for the polls, to fight for the last time. Democracy is in danger. Motha is not a party, it is a movement, it is for survival, existence, and justice for 'Tiprasa'. I challenge you, if you have the guts and courage, throw me off. For the 'Tiprasa', Bubagra will love to die, but will not compromise", he also added.
Addressing the programme, Indian football player Bhaichung Bhutia said that regional political parties are of great importance. "I am also leading a party in Sikkim. The local issues are well understood by the regional political parties. In any situation, these parties will stand with you while the national parties won't. Bubagra told me that Motha will contest in 40 assembly constituencies. I am hopeful that the Moth will win in all the seats contested and form government in 2023", he added.