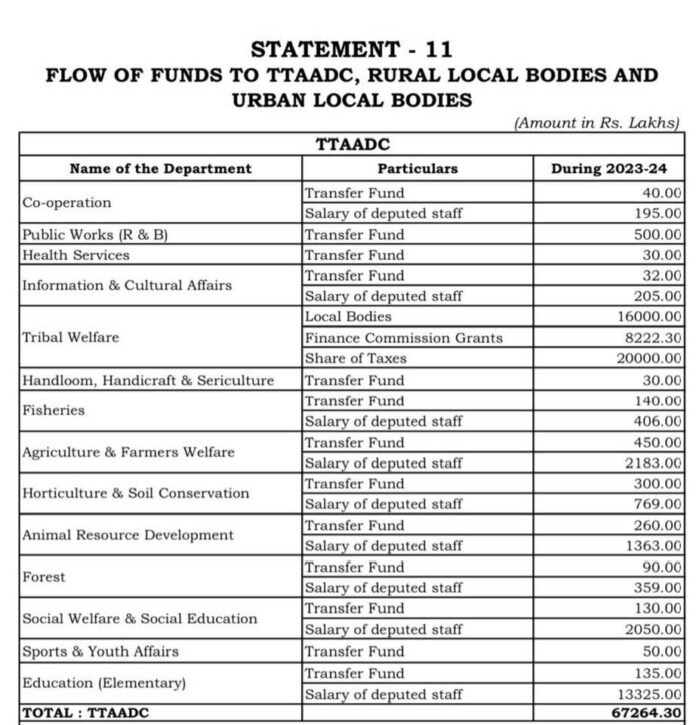 In a shocking revelation, it has come to light that the Tripura Tribal Areas Autonomous District Council (TTAADC) is being systematically deprived of its autonomy and fair share of funds by the state government. This severe imbalance of power and resources poses a serious threat to the development and equality of the region.
Despite being entrusted with certain autonomous powers, the TTAADC's ability to exercise them is severely hampered by the meager funds it receives from the state government. The extent of autonomy enjoyed by the council is minimal, with funds being allocated in a heavily skewed manner, favoring the state government's interests.
One glaring example of this disparity is evident in the field of education. While the state government's budget for the Elementary Education department amounts to staggering ₹1028 crores, the TTAADC is allocated a mere ₹134 crores for the same department. This means that TTAADC's share of power in elementary education is a mere 11.5%, despite the area being home to 35% of the state's population.
This trend of unequal distribution of funds extends across various other concurrent departments, including health and agriculture. The result is that the TTAADC's influence and decision-making power are greatly diminished, undermining the true essence of autonomy.
The consequences of this disproportionate allocation of funds to the TTAADC are dire. It not only hampers the region's development but also renders the existence of the 6th schedule areas superficial, despite several decades since its inception. The TTAADC, responsible for administering remote areas with limited access to healthcare facilities, was allocated a paltry sum of only 30 lakhs rupees for the health services department. Such neglect reflects a gross injustice toward the people residing in these disease-prone areas.
In the current fiscal year, a mere 2.43% of the state's total budget, amounting to 672 crores rupees, has been allocated to the TTAADC. While this marks a slight increase of 53 crores from the previous year, it is insufficient to address the pressing needs and aspirations of the region. Worse still, there are no indications that this allocation will see any significant improvement in the foreseeable future.
This revelation has sparked outrage among the local population, who demand fair and proportional allocation of funds based on the percentage of the population residing in the TTAADC areas. The people believe that only when resources are distributed equitably can true autonomy be achieved, allowing the region to flourish.
The neglect of the TTAADC by the state government is an alarming issue that must be urgently addressed. The future of the region and the well-being of its inhabitants depend on rectifying this severe imbalance and ensuring that the TTAADC is empowered to exercise its rightful autonomy and receive adequate funds for development.