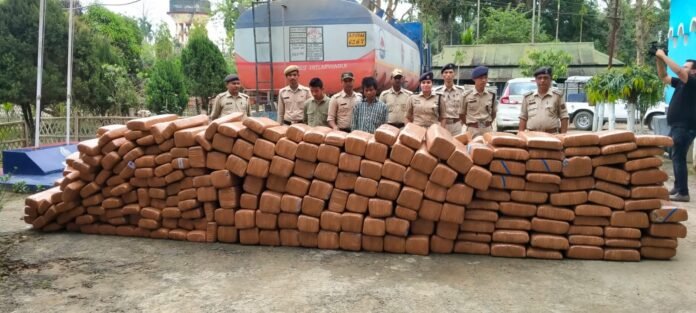 In a major crackdown against drug peddlers, the Unakoti District Police in Tripura seized a huge amount of dry Ganja worth approximately 7.3 crores. The police team, led by SP Unakoti and SDPO Kumarghat, along with the Pecharthal police station staff, detained a truck based on secret information and recovered 3660 kg of dry Ganja on searching the vehicle. Two persons were arrested in connection with the case and a specific NDPS case has been registered.
The police had received a tip-off about a consignment of drugs being smuggled into the state from a neighboring state. Acting swiftly on the information, the police team set up checkpoints on the highway and intercepted the truck in question. Upon searching the vehicle, they found a massive amount of dry Ganja stashed inside.
The two arrested persons have been identified as the driver and the helper of the truck. They have been booked under relevant sections of the NDPS Act and are currently in police custody for further investigation.
The Unakoti District Police have been taking a strong stance against drug peddling and have been conducting regular raids to prevent the supply of drugs in the area. With this latest seizure, they have dealt a major blow to the drug trafficking network in the region.
Speaking on the matter, SP Unakoti said, "We have been receiving intelligence inputs about drug trafficking in the region and have been working tirelessly to prevent it. This seizure is a result of our efforts and sends a strong message to those involved in this illegal trade. We will continue to be vigilant and take strict action against anyone found to be involved in drug peddling."
The Tripura Police have also commended the efforts of the Unakoti District Police in seizing the drugs and have urged people to come forward and report any suspicious activity related to drug peddling.
The seizure of such a huge quantity of drugs is a major success for the Unakoti District Police, and it highlights their commitment to eradicating the menace of drug trafficking from the region. The police are expected to continue their crackdown against drug peddling and ensure that the area remains drug-free.