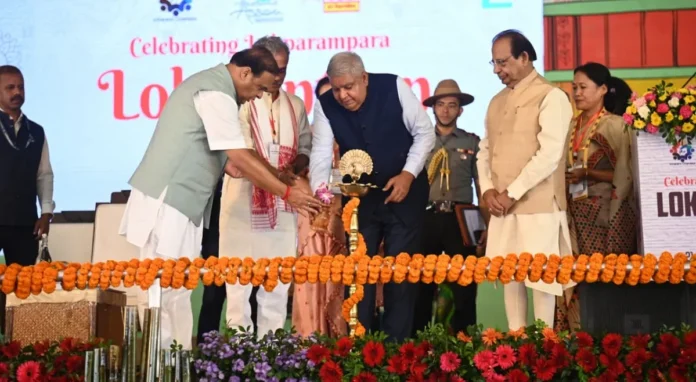 Guwahati, 22 September: The Indian Vice President Jagdeep Dhankhar inaugurated the 3rd edition of Lokmanthan hosted by Prajna Prabah in Guwahati.
Governor of Assam Jagdish Mukhi and Chief Minister Dr. Himanta Biswa Sarma were also present in the inaugural session of the 3 days celebration of the Lok Parampara of the nation held at the Sankardev Kalakhetra premises.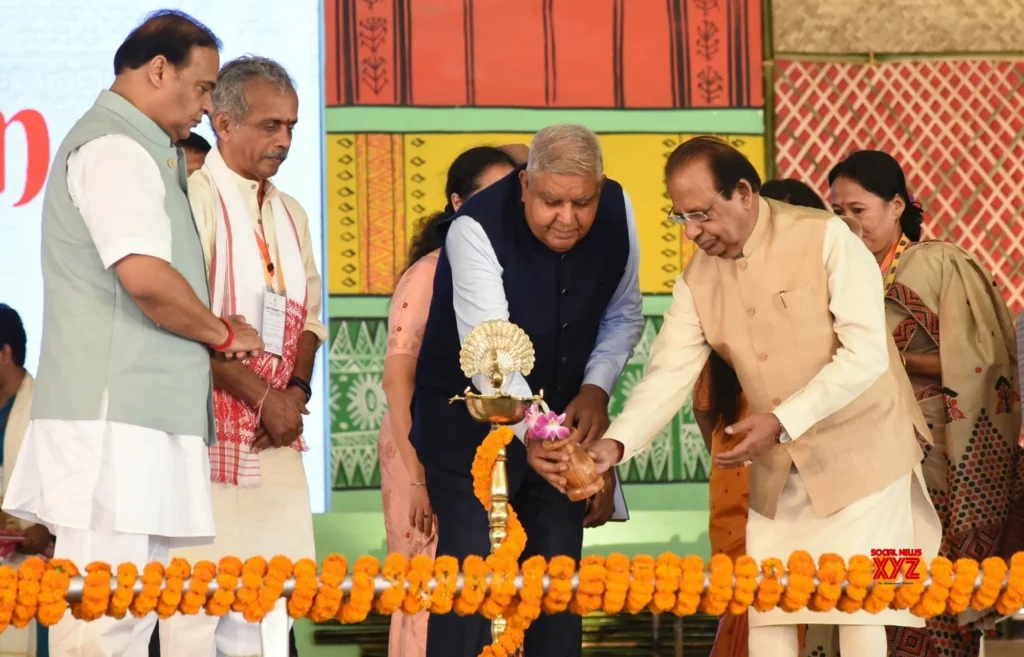 The third edition of the Lokmanthan which will have several brainstorming sessions on cultural and lok parampara of the nation, especially of the North East region is being observed with the theme to seek the cultural and traditional heritages hidden in the various corners of our country.
The event has attained overwhelmingly positive feedback from scholars & experts from all across the nation.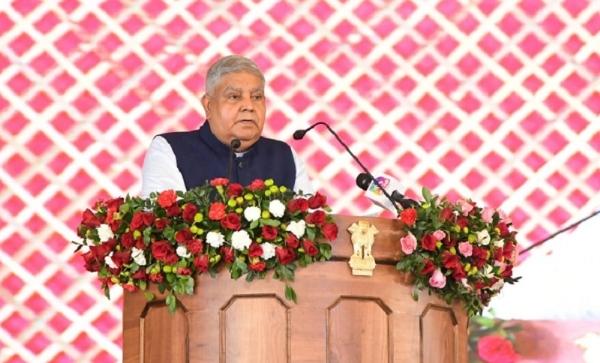 Addressing the inaugural function of Lok Manthan 2022 as chief guest, Vice President Jagdeep Dhankhar said, "Dialogue, Debate, and Discussion are the souls of governance. The contemporaneous scenario on this count, particularly in the legislature, is worrisome. Entire ecosystem upliftment can be affected by drawing lessons from our rich past. The thriving space for discussion and dialogue must be protected from the many dangers it faces. In a race for one-upmanship and under the constant glare of the public eye, debates – televised or on social media – are turning into cacophonous fighting arenas. The media should take the initiative here – they should introspect, pass on the mike and let unique, original, and marginalized voices come to the mainstream."
Governor of Assam Professor Jagdish Mukhi in his speech said, " Lok Manthan is a journey to seek and rediscover the cultural and traditional treasures hidden in different parts of our country. I am certain that the discussions and deliberations in the colloquium will help to chart out a roadmap to guide us in regaining our glory to make India a Viswa Guru."
On the occasion, Assam CM Dr. Himanta Biswa Sarma Said, "Bharat is not a country formed after independence in 1947. Rather it is a civilization running for more than 5000 years. Bharatvarsha is not just a nation-state that came into being in the 19th century, but a living entity. The North East had deeply enriched the great ancient Indian civilization. Eminent 15th-century Vaishnavite saint Mahapurush Srimanta Sankardev was the first to associate Bharatvarsha with Assam & refer to it as "motherland."
Rashtriya Swayamsevak Sangh Sahkaryabah Dattatreya Hosabale, Dr. Manmohan Vaidya, Prajna Prabah national coordinator J Nandakumar and many eminent cultural and intellectual personalities of the country are present in the inaugural function of Lokmanthan 2022. Several sessions of intellectual and cultural brainstorming will take place in the Sankardev Kalakshetra venue in Guwahati in the next three days to rejuvenate the hidden tradition and cultural treasure of our country through Lokmanthan.