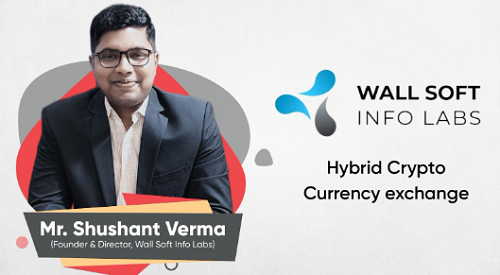 A start-up based in Uttar Pradesh, India, is causing a major disruption in the realm of cryptocurrency with its groundbreaking approach. While cryptocurrency trading exchanges are gaining popularity, they often suffer from inflexibility. Recognizing these limitations, Wall Soft Info Labs Private Limited has introduced Hybrid Exchange, such as HEX, to address the common challenges faced by users, including limited control over their funds, interference from third parties, and restrictive policies related to naming. By offering a seamless trading experience, rapid transactions, and a user-friendly interface, the company aims to provide users with unparalleled flexibility.
Mr. Shushant Verma(Founder & Director), Wall soft info labs
Leading the charge is Mr. Shushant Verma, the founder and Managing Director of Wall Soft Info Labs Private Limited a commerce graduate and an MBA in finance, as mentioned in an interview with 3EA, "After 15 years of experience and developing expertise in finance and stock markets, I understand the psyche of investors. I have been researching virtual currency models and have been dealing in the cryptocurrency market very closely. I have garnered 5 years of experience in the blockchain industry as well. Hence, I am very sure about the business model of my project. We are going to solve a crucial problem of cryptocurrency users by the way of launching our Hybrid Crypto Currency Exchange. This will be unique and first in addressing many concerns of the users."
Through his extensive knowledge and insights, Mr. Verma has played a pivotal role in setting a strategic direction for his company Wall Soft Info Labs Private Limited.
A recent survey on many entrepreneurs and start-ups, conducted by 3EA, revealed Mr. Vermas long-standing fascination with Bitcoin and blockchain technology, which dates back to 2013. Captivated by the potential of this transformative technology across various industries, he delved into specific concepts such as Meta, WEB 3.0, DeFi, and Insurance. As a result of this exploration, Wall Soft Info Labs Private Limited has developed a Hybrid Exchange platform that seamlessly integrates the advantages of both decentralized exchange (DEX) and centralized exchange (CEX) functionalities. Users can securely deposit cryptocurrency, engage in trading activities, and withdraw funds without any friction.
Wall Soft Info Labs Private Limited goes above and beyond by offering an extensive range of services to its clients. These services include peer-to-peer (P2P) trading, spot trading, margin trading, staking, and liquidity pool access. Moreover, the company has ambitious plans to incorporate additional features such as decentralized finance (DeFi), non-fungible tokens (NFTs), initial coin offerings (ICOs), initial exchange offerings (IEOs), and a Price Protection Pool (PPP). The introduction of these features will further enhance the trading experience and provide users with even more options and opportunities.
The ever-growing interest in cryptocurrencies has attracted substantial investments from venture capitalists and private equity investors who are eager to capitalize on this promising sector. These investors are now turning their attention towards blockchain-based applications and platforms powered by coins native to the Metaverse and Web3. Wall Soft Info Labs Private Limited is determined to remain at the forefront of the blockchain industry, offering distinctive features that set it apart from its competitors. These features include limited supply, mineable deflationary properties, low gas fees, robust security measures, low energy consumption, and interoperability.
The Hybrid Exchange platform, founded by a group of friends with diverse backgrounds encompassing trading, marketing, and sales, initially commenced its operations in Lucknow, Uttar Pradesh. However, due to its rapid growth and expanding customer base, the company soon moved its headquarters to Delhi NCR and established a second office in Noida. This strategic expansion enables Wall Soft Info Labs Private Limited to tap into the increasing fascination surrounding cryptocurrencies and blockchain technology, positioning the company as a prominent player in the industry for years to come.
Wall Soft Info Labs Private Limiteds Hybrid Exchange platform, HEX, is revolutionizing the landscape of crypto trading by addressing common user challenges and providing a seamless and flexible trading experience. With its visionary founder, extensive range of services, ambitious plans for future enhancements, and a commitment to innovation and excellence, the start-up is poised to lead the way in the highly competitive cryptocurrency market. As the world of blockchain and digital assets continues to evolve, Wall Soft Info Labs Private Limited is well-positioned to establish itself as a driving force in this dynamic industry.
Wall Soft is an example of changing start-up scenario in Uttar Pradesh and is aligned with the vision of the Chief Minister of Uttar Pradesh as the state government is working on a model of AI City in the upcoming State Capital Region.
​