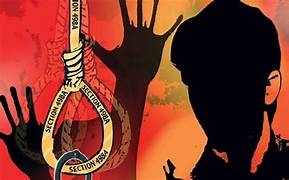 A tragic incident unfolded in Tripura's Paul Para area under Udaipur sub-division of Gomati district when a 29-year-old woman died at her in-laws' house, sparking allegations of dowry harassment. The victim's parents claimed that their daughter was subjected to cruelty by her husband, who demanded dowry from her family. They alleged that she was murdered and then hanged. The husband has been accused of being the main culprit behind her untimely demise.
The deceased, identified as 29-year-old Jayashree Debnath from the Tulamura area, was married to Sudip Lodh from Paul Para area in Udaipur sub-division 12 years ago, following social customs. It is alleged that substantial dowry, including a motorcycle, cash, gold jewelry, and furniture, was provided at the time of the wedding.
The victim's father, Haradhan Debnath, claimed that the initial two years of their marriage went smoothly, but problems arose when Jayashree became pregnant. Sudip allegedly began pressuring his wife to bring money from her father to fulfill his family's various needs.
According to Haradhan Debnath, his son-in-law developed an insatiable greed for money, often demanding funds even for minor expenses, despite being an insurance agent with a stable income. Sudip's earning potential allowed him to frequently travel outside Tripura for work. However, he continued to pressure Jayashree mentally and physically, using alcohol-fueled assaults as a means to extract money from her father.
Several arbitration meetings were reportedly held between the two families, but a resolution was never reached. Instead, Sudip allegedly resorted to blackmail, threatening to commit suicide if Jayashree failed to bring money from her father. Haradhan Debnath, concerned for his daughter's happiness and well-being, succumbed to the demands, providing the requested funds.
Haradhan Debnath revealed that Jayashree and Sudip had a heated argument recently, prompting her to seek refuge at her father's house. However, she later returned to her husband's home. Tragically, on Tuesday, her lifeless body was discovered hanging in her present residence at Paul Para in Udaipur sub-division. Jayashree's father filed a written complaint against Sudip Lodh with the Tulamura Out Post under the Kakraban police station in Gomati district, alleging that his daughter was murdered and then hanged to make it appear as if she had committed suicide. The police registered a case based on the complaint (Case No. 62/2023) and subsequently arrested Sudip Lodh.
The shocking incident has sent shockwaves through the community, prompting authorities to take swift action. The police arrested Sudip Lodh following the filing of the complaint by Jayashree's father. Investigations are underway to determine the circumstances surrounding the woman's death and to establish whether it was a case of suicide or murder, as alleged by the victim's family.
The untimely demise of Jayashree Debnath has left her family devastated. Apart from her grieving parents, she leaves behind a young daughter studying in the second grade. The tragic incident highlights the deep-rooted issue of dowry-related violence and the need for stringent measures to combat such practices in society.