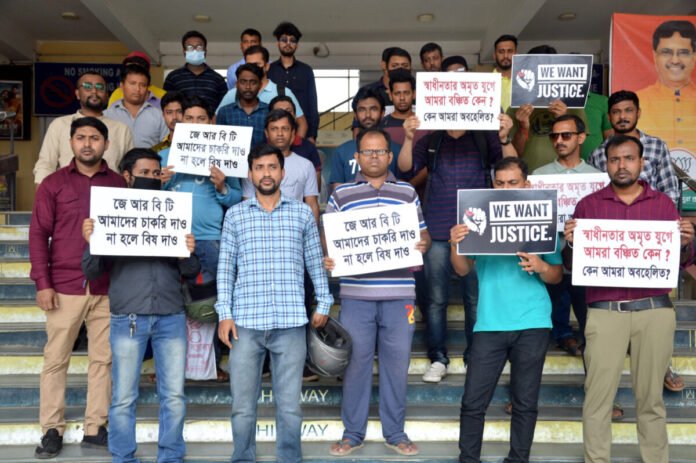 Job seekers in Tripura are urging the state government to complete the recruitment process for 24,653 qualified candidates for 4910 posts of Group-C and Group-D by June and July of this year. The Joint Recruitment Board of Tripura (JRBT) issued a notification in 2020 for the recruitment of these posts, and examinations were conducted in August 2021 with 1,23,000 aspirants appearing for the same. The High Court stayed the results after the conduct of the exams was challenged in February, and the stay was withdrawn in August. The results were announced in December 2022, and the interview process for shortlisted candidates began. However, due to the assembly elections, the interview process was postponed to January 17-18, and later, the government did not take any initiative to restart the interview process.
The job seekers are unhappy with the government's disorganized recruitment process and lack of seriousness towards them. They claim that they are demanding jobs based on their merits and not seeking alms from the government. The government was forced to announce the results after the stay was withdrawn, but it has not taken any initiative to complete the recruitment process, leaving the qualified job seekers in limbo.
The job seekers expressed their dismay over the comments made by Labour minister Tinku Roy, who took their issue lightly and cited an instance from the previous government's rule. The job seekers questioned the government's seriousness towards them and why the recruitment process is not being expedited. They also highlighted the geographical constraints in setting up big industries in Tripura and urged the government to recruit them for jobs based on their merits.
It is worth mentioning that among the 24,653 candidates, 7,988 are of Group-C category and 16,665 are of Group-D category. The sanctioned posts for Group-D comprise 2,410, including 1500 posts for Lower Division Clerk (LDC), 22 posts for Agri Assistant except TAFS Grade-III, 443 for Agri-Assistant except TAFS grade-III, 236 posts for Junior operator pump, and 209 posts for Junior multi-tasking operator (uncommon). The sanctioned posts for Group-D are 2500.
The government must take urgent action to expedite the recruitment process for these qualified job seekers and provide them with the jobs they deserve based on their merits. The delay in the recruitment process is causing great hardship and uncertainty for these individuals, who have been waiting for three years for the completion of the process.